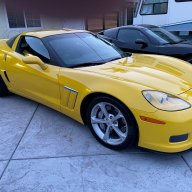 Joined

Jun 27, 2019
Messages

16
Location
Corvette

2013 Black on Black Coupe 2LT
I've wanted a sports car for a fair number of years, but there have always been other, more responsible things to spend money on. I'm an outsides sales rep and spend a lot of time on the road in an SUV (Honda Pilot these days) as that form factor works really well for work for me. As you can imagine, while competent, big SUVs just aren't all that much fun to drive, but I can haul around factory guys and rep samples (I sell stuff everyone wants, but nobody needs).
I originally started looking at Mazda Miatas and Honda S2000sa few years ago as the price of admission was low and they seemed like fun, but the reality of being a full sized American boy finally nixed those choices as they were just too small. I finally figured out that a Corvette was probably my best choice, but was hesitant as it seemed a little too cliche for a late 50s guy to buy a Corvette, but I eventually got over that and started looking more seriously.
A few weeks ago I spotted a Corvette freshly listed on Auto Trader that seemed to be the right combination of year, mileage and price, so I went to look. It was at a Toyota dealership about an hour drive from home. I really had no intention of buying it, but just went to look. After a good test drive, visual inspection and a few hours of hemming and hawing, I bought it! It's a Black on Black 2013 Coupe 2LT. As far as I can tell, it's all stock except the after market stereo, which almost put me off of buying the car as I used to run car audio shops and know how bad a poor install can mess up a car's electrical system, but the installation was professionally done with top quality components, so I pulled the trigger. I'm really happy I did! It's got 61K miles on the clock and while the paint isn't perfect (likely stored outside), the body is straight and the car seems to be mechanically really solid. It was a one owner car with a clean CarFax report. While the initial inspection at the dealer looked good, after purchase, I took it to a very well respected local shop and had them go over it top to bottom and the reports were all good. There's no evidence of collisions or prior damage. It had effectively new Michelin Pilot Sports and brakes that appeared to be freshly serviced, so I had them change all fluids and do an alignment to make sure I started with a known maintenance baseline. It runs like a top and doesn't leak any fluids. The headlights are crazed, but hopefully the Sylvania headlight restoration kit I've just ordered will help fix that.
I don't know if this will be a six month dalliance, my Forever Corvette, or my Starter Corvette, but so far I am loving it! I'm starting to think it will be one of the latter of those two choices rather than the former. The service writer at the shop has owned a couple C6s and told me that I hadn't just bought a car, but had joined a club or fraternity. I didn't quite understand what he meant. After having it for a few weeks now (weekend car), I'm starting to get it. I'm amazed at the waves ad thumbs up I get from other Corvette drivers on the road! It makes me smile when I drive it and giggle when I put my foot in it!
That's probably more introduction than anyone asked for, but that's how I got here! Here's a picture of my new baby:
The stereo is way more than I would ever put in a car on my own, but while I got out of the car audio business decades ago, I'm still in the A/V business and appreciate a good sound system and the one in this car is amazing! It's not just loud, but very refined. It takes up a bit of the limited cargo space a Corvette has to begin with, but if I need more space, I can always take the Pilot!
Looking forward to many miles and many smiles in my new to me Corvette!