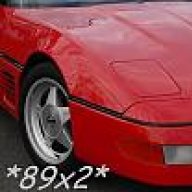 Joined

Feb 18, 2002
Messages

10,357
Location
I found this interesting site with an old set of photos of the Carlisle Fairgrounds, site of the World's GREATEST automotive shows each season :cool
It shows some old racing action around the very grounds that are now laid out for us to show our cars, while sipping strawberry smoothies insearch of some shade :cool
Check these pictures out

(...and while we are talking Carlisle, don't forget to register for the 2007 Callaway Reunion there in August!
>>> Callaway Reunion -
Click to register your Callaway Corvette.
:cool )
Carlisle Fairgrounds - 1962
Heat race action on the back stretch. The 71 is Ken Hurley. The overturned car was #50 of Don Brehm. The passing "coach" is the #25 of Bobby Danner. The dark car is the #57 of Jimmy Sheaffer.
H
eat lineup in the 2nd turn
A late 80's picture of the track
Looking from the 3rd turn back towards the 2nd. This is a 1980's motorcycle race.
2nd turn towards the 3rd turn
"This track had a ton of potential as far as size, access, and parking. A decent surface and some retaining fences would have made this place one of the best ever. Unfortunately it was right in town and was run by a pack of agricultural old timers. Regular racing would have never been accepted. I guarantee the place would have been packed though.

I grew up and live just blocks from where it is. The track was landscaped away for the Flea Markets. The Grandstand burned down about 5 years ago. However, the Millers (Owners) built almost an exact replica in it's place!!"