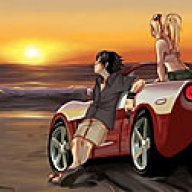 Site Administrator
Staff member
Administrator
Joined

Sep 16, 2000
Messages

13,790
Location
Corvette

1990 Corvette ZR-1
Dock Worker Is Fired for Posting Photos Online of Prototype Corvette
NICK BUCKLEY
Published: March 3, 2007
New York Times
In a city where cars are the stars, the biggest recent celebrity scandal involves a top-secret high-powered sports car and an overzealous loading dock worker who now needs a new job.
The amateur paparazzo was said to have been fired recently from his job at a freight company after posting 23 photographs online of a prototype version of what is believed to be a 680-horsepower Chevrolet Corvette SS. He also briefly drove the bright red car, which General Motors valued at $1 million, around the freight company's parking lot before it was shipped to Germany, according to a police report on the incident.
The pictures, originally posted on fast-autos.net, instantly became the talk of automotive enthusiast circles and quickly appeared on popular Web sites such as Jalopnik.com and theGMsource.com, where users lauded the photographer as a hero.
Police from the city of Romulus were called to the company, near Detroit Metropolitan Airport, where they were told that the dock worker had taken the photographs with his cellphone camera and had a history of doing so with other vehicles he handled. But despite initial reports that the man was arrested, no charges had been filed against him as of Friday, and the police report, which blacked out the man's name and other identification, indicates that the case is closed.
A Chevrolet spokesman, Terry Rhadigan, said Friday that the company was investigating what could be done to prevent future security breaches, but that it did not plan to file a lawsuit.
"At this point, I think it would be unlikely for us to pursue the matter," Mr. Rhadigan said. "No criminal activity was done, and he didn't do it apparently for any profit."
Mr. Rhadigan, who would not confirm what model the car was a prototype of, conceded that the incident had generated buzz for G.M. and the Corvette.
"It's a good problem to have, but it's still a problem," he said. "There's a voracious appetite for anything about the Corvette."
A person who answered the phone at the Illinois headquarters of the freight company, Central States Trucking, said the company would not comment. The police report said that the company intended to fire the worker, and his dismissal was reported on auto blogs.
Car lovers had been clamoring for the first photos of a supercharged Corvette rumored to be in development. Several months ago, Winding Road, an online automotive magazine, fooled other publications into printing pictures of a faked prototype made with $400 worth of duct tape and foam.