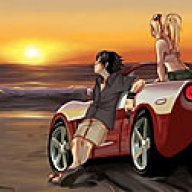 Site Administrator
Staff member
Administrator
Joined

Sep 16, 2000
Messages

13,790
Location
Corvette

1990 Corvette ZR-1
Reinventing the Corvette
By Michael Cary
The Gazette-Enterprise
Published April 25, 2007
GERONIMO — Billy Dawson drove a stock 1958 Chevrolet Corvette after he graduated from Navarro High School, and he remembers how unsteady they were on the road.
Later on in life, Dawson decided to take a break from racing motocross and building everything from boats to open-cockpit biplanes.
He wanted to build a hot rod, and after doing some research, he decided he wanted a car that resembled his old Corvette, but he wanted a car that handles like modern-day automobiles.
So Dawson drew up the plans for a new chassis to fit under an old Corvette's fiberglass body, and when he finished his dark green and silver, modernized hot rod, he took it to a car show.
That started the snowball rolling for Dawson's Seguin Speed Shop, also known as Corvette Correction, out on Barbarossa Road.
"I got into this totally by accident. I built a chassis and everybody liked it so well I took orders for six chassis," Dawson explained.
He went to another car show with his modified hot rod, and came home with 10 more orders for special chassis that make 1958-era Corvettes handle and run like it was built yesterday — which in a sense, it was.
Basically, one of Dawson's remodeled Corvettes runs much faster, has four-wheel disc brakes, rack-and-pinion power steering, a much-improved suspension and late model technology with a Chevy LS2, 364 cubic-inch, 405-horsepower, fuel-injected power plant.
"These cars run well and stop well. The stock Corvettes were more dangerous because they had no power steering, no power brakes and not much horsepower," Dawson said.
The custom chassis that Dawson's shop builds are double-rail frames that keep the "body flex" out of the auto body. "It drives like a uni-body car, and the design keeps the squeaks and rattles out," Dawson said.
Seguin Speed Shop outputs one chassis per week for customers who order cars from as far away as Chicago or Hawaii. The shop builds about three complete modernized Corvettes in a given year.
Dawson maintains a fiberglass shop staffed by Steve Medina, a veritable "magician" with the fiberglass Corvette bodies that are found in fields and garages after extensive searches across the nation.
"I make fiberglass parts and send them over to Billy, and he gets rid of them as fast as I can make them," Medina, who worked for Dawson when he was racing motocross, explained. "When he gets done they're beautiful cars."
The third component of Corvette Correction is Dawson's son-in-law, John Jones, who assembles the steering and suspension, including the axles and wheels, on the new Corvette chassis, and installs new wiring and other parts on each project.
"I've been able to make a living playing all my life," Dawson said of his hobby turned into a serious modified-Corvette manufacturing business. "I do have a good time."
The Corvettes that Dawson builds are basically brand new, including air conditioning, power windows and modern-day instruments, and they cost anywhere from $125,000 to $175,000.
Billy Dawson and his wife, Sherry (who drives a modified 1960 Rolls Royce) give back to the community in which they thrive with their family business.
They recently organized another annual Seguin Wheels Around the Square Car Show to raise funds for the Seguin Activity Center.
The fun begins at 6:30 p.m. at the Chopped and Diced shop at 621 N. Austin St. for a Friday Night Poker Run on May 4. The run will feature prizes for the best five-card poker hand, and anyone can drive cars, trucks or bicycles to collect all five cards and later to assemble at Kirby's Korner Restaurant for burgers and a "shown 'n' shine." Entry fee for the poker run and the next day's car show is $20.
The car show kicks off with an 8 a.m. to noon registration, voting from noon to 1 p.m., and an awards ceremony at 2 p.m.
The show, to be held in Seguin's downtown Central Park, is an open car show for all wheels.
Trophies will be awarded for best engine sound, best engine, best of show, best interior, best display, best body and paint, and a police officer's pick for the car they would most like to chase.
Wheels categories range from original cars and trucks 1948 and older to modified cars, stock and custom motorcycles, and Corvettes, stock and custom, among others. Added auto classes will be dictated by pre-registration.
For more information about the show, call the Seguin Activity Center at (830) 379-7842.
Dawson said he might take his rebuilt/modified 1958 to the car show, but he said since he drives it every day, "it's not really a show car.
"This was built out of junk, basically," Dawson said.