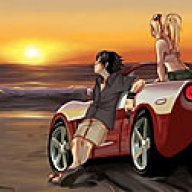 Site Administrator
Staff member
Administrator
Joined

Sep 16, 2000
Messages

13,593
Location
Corvette

1990 Corvette ZR-1
'Vette Science
January 29, 2007 - 2:06PM
The Sydney Morning Herald
The Chevrolet Corvette, Detroit's answer to the Porsche 911, has arrived in Australia. JOSHUA DOWLING drives the sports car known as the heartbeat of America.
Claimed 0 to 100kmh Less than 4 seconds. A small business in a small town in Queensland has managed to do what the biggest car maker on the planet, General Motors, cannot: build a right-hand-drive version of the iconic Chevrolet Corvette, one of the automotive world's most famous nameplates.
And this isn't just any Corvette, it's the high-powered Z06 version bred for endurance sports car racing. It's the fastest and most powerful car General Motors has built. It's so quick it even has a digital G-force meter to measure lateral forces in tight corners.
In the United States it sells for a fraction of the cost of European thoroughbreds such as Porsche and Ferrari and yet it is quicker than its more exotic peers.
Why is it so? Part of the answer is the thumping, handbuilt 7.0-litre V8 engine which has 377kW of power and 644Nm of torque. This in a car that is about 400kg, or 20 per cent, lighter than a new Holden Commodore.
Its claimed straight-line speed is "less than 4 seconds" for the 0 to 100kmh sprint and less than 12 seconds for the 400-metre dash, the age-old drag racing benchmark. These figures are significantly quicker than mainstream Porsche and Ferrari models. To find a car with the performance to match or better this, you need to spend more than $400,000 with the Germans or the Italians.
That said, in Australia, this Corvette doesn't come cheap. In the US it sells for $75,000 but here it costs $240,000 once the Federal Government gets its share of import duty, luxury car tax and GST. Also included in the price is the cost of the conversion (a three-week exercise) and the cost of getting the car to meet local compliance regulations.
The Gympie company that distributes the Z06, Corvette Queensland (which also sells about 100 Hummers and 200 Chevrolet pick-ups a year), reckons it will sell just a dozen or so of the flagship Corvettes each year but it can import twice that number if there is demand - which there is. Three cars have already been sold this year.
A Volvo-driving doctor from South Australia, Zac Baran, 43, was the first person in Australia to own a Z06. He took delivery of his red Corvette in late December and has barely driven it, with just 500 kilometres under its tyres in a month. That's partly because, in addition to his Volvo daily driver, he has five other Corvettes from which to choose.
He bought the Corvette Z06 without even taking it for a test drive. "It's exceeded my expectations," he says. "It's just such an amazing car."
Why did he not buy a Porsche or a Ferrari? "They're too common. You hardly see Corvettes on Australian roads. Besides, to me, a Porsche is like a squashed Beetle. People who buy Porsches don't buy Corvettes and people who buy Corvettes don't buy Porsches."
That may soon change, for the Corvette is the most convincing challenger yet to the European throughbreds.
While most American muscle cars can pump iron, they're rarely athletic. The Z06 Corvette, however, is proof that Americans know how to make a car that can sidestep an opponent and handle corners with finesse.
This is due in part to the Corvette's lean but solid frame. The Corvette's body and core structure is high-strength but lightweight aluminium. The front guards, bonnet and rear hatch are lightweight plastic. There's barely a gram of fat anywhere on this body. Even the blind for the cargo area is made from swimsuit material and held in place by elastic cords. It weights next to nothing and is just as effective as a more solid fixture.
There are some luxuries, though, such as heated leather seats, cruise control, a digital compass in the rear view mirror and an awesome seven-speaker premium sound system by Bose.
However, buyers of the Z06 are likely to be more interested in the car's performance. That's why the product development team for the Z06 Corvette was based at the high temple of horsepower, Germany's Nurburgring - the winding 26km race circuit where Europe's thoroughbred sports cars are finely honed.
It was worth the trip. The Corvette corners with a precision not usually found in American cars and its engine performance is breathtaking. The 7.0-litre V8 is not as refined as the engines in Porsches or Ferraris (at cruising revs it even sounds a little scratchy) but it transforms into a scowling V8 Supercar with generous application of the throttle. Ingeniously, at high revs, electrically controlled flaps near the four exhaust tips automatically let the 7.0-litre breathe a little easier and give it a louder bark.
Acceleration is brutal. The Z06 can exceed 110kmh in second gear because the V8 has an unusually high maximum rev range for such a big engine: 7100rpm. This is possible thanks to lightweight parts and a force-fed, race-car-like oil delivery system which makes sure the internals are properly lubricated at all times.
Power is nothing without control and that's where the massive six-piston front brakes and four-piston rear brakes with cross drilled discs and super-wide sticky tyres come in. The front tyres are as wide as the rear tyres of most performance cars and the rear tyres are so wide they almost touch each other in the middle. For the tech heads: it wears Goodyear Eagle F1 275/35ZR18 rubber on the front and 325/30ZR19 (or 13 inches wide) on the rear.
The rear tyres cost the equivalent of $1400 each but aren't yet available in Australia. The front tyres are (slightly) more reasonably priced at $650 each but there are none in stock in Australia. Let's hope we don't get a flat.
They have so much grip the Z06 has its own G-force meter, which appears in the heads-up display. An image of a digital speedo and a G-force reading are reflected onto the windscreen in the driver's line of sight so you don't have to take your eyes off the road. In tight corners the Z06 is capable of reaching up to 1.04g of constant lateral grip (similar to the forces felt by a race car on a racetrack), the car maker claims.
We're not here to test that today. Instead of a high-speed track test, we wanted to know what the Z06 is like in the real world, so we drove it from Brisbane to the Gold Coast and back, with a few winding detours in between.
The reaction of other motorists to the Z06 was interesting; it passed the mobile phone camera test (we had at least a dozen pointed at us from other moving cars). While the Corvette may be one of the world's most famous automotive brands, not everyone knows what this car is. At one point, when we stopped for photography,
a passing motorist yelled out "Ferraris rule". We didn't have the heart to tell him it was a Chevrolet.
The new Corvette has longer suspension travel than previous models, so it soaks up bumps and thumps with surprising ease. On concrete sections of freeway the tyres are a bit noisy but that's the compromise for having so much rubber in contact with the road.
In all, the Z06 feels like a surprisingly well-finished car, given that it has undergone major surgery to move the steering wheel to the other side of the cabin. Any shortcomings, such as the cabin's overall bland design, average seats and plain steering wheel, were engineered by Chevrolet.
The guys at Corvette Queensland were mindful of not undoing the work Chevrolet engineers did to create such superb steering feel and they tested several prototype right-hand-drive steering systems before deciding on the best one, which is made exclusively for them.
It's an impressive effort, as is the rest of the conversion. The dashboard and door panels look so authentic you'd swear they were the originals. The only minor blots: moving the gear shift lever to the right of the centre console meant the cup holders had to go and the shift action feels awkward.
Sometimes, at low revs, the gear selector won't allow you to shift from first to second. Instead, an automatically controlled mechanism redirects you to fourth (the engine has so much torque that this is not a problem). The system was installed so the Corvette can meet US emissions regulations. However, to avoid it, you simply give it full throttle in first.
Eagle-eyed enthusiasts may notice a few exterior differences to enable the Z06 to comply with Australian regulations; side indicator lamps from the 2005 Commodore have been fitted under the Z06 badge on the front guards and the fog lights neatly house aftermarket parking lamps.
The whole job is so professional you wonder why Holden or General Motors hasn't done the same. The main reason is cost. Low-volume, private importers do not need to crash-test cars (although they do need to demonstrate that the airbag system and sensors have been moved to the appropriate spot for a right-hand-drive car) and aren't obliged to carry back-up parts and service. A mainstream car maker such as Holden is required to meet more stringent emissions and safety regulations (including crash-testing several cars), carry a massive parts inventory and to train technicians across Australia.
General Motors has previously not developed right-hand-drive models of
the Corvette because it, simply, hasn't needed to. It sells every Corvette it builds and there is still a long waiting list for the Z06 in the US. Some dealers are charging customers a premium of $5000 to $10,000 to jump the queue.
The boss of Holden, Denny Mooney, and the head of engineering for Holden, Tony Hyde (who has imported a black left-hand-drive Z06 for "evaluation purposes" and keeps it at Holden's test track) have been badgering their superiors at General Motors about the Corvette for years but their requests have mostly fallen on deaf ears.
At the Detroit motor show earlier this month the global head of product development for General Motors, Bob Lutz, said there wouldn't be a right-hand-drive version of the current Corvette but it is the company's intention to do a right-hand-drive version of the next all-new model.
The problem is the Corvette has a long life cycle and the current car is still a relatively new model, so an official right-hand-drive Corvette is at least four years away from coming to Australia.
There are a couple of blokes in Queensland who will be happy to hear that.
American cars rarely deliver on substance and for years have survived solely on style. The Corvette Z06 is the exception to the rule. It's just a pity that the world's biggest car maker, besieged by imported cars in its North American homeland, is keeping this car a secret from the rest of the world.
Price
$240,000.
Engine
7.0-litre LS7 V8.
Power
377kW at 6300rpm.
Torque
644Nm at 4800rpm.
Transmission
Six-speed manual.
Weight
1419kg.
Source:
http://www.smh.com.au/news/news/vette-science/2007/01/29/1169919257468.html