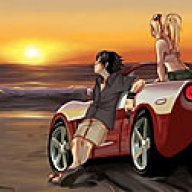 Site Administrator
Staff member
Administrator
Joined

Sep 16, 2000
Messages

13,905
Location
Corvette

1990 Corvette ZR-1
The following article was submitted by
Dadman1950
. He raises a couple interesting questions. If Barrett-Jackson did offer the very first C7 Corvette up for auction, would you bid on it if you had the money and how much would you be willing to pay for it?
----------------------------------------------------------------------------------------
How much would you pay?
By Rick Tavel
Copyright
All rights reserved
Do not use without permission.
As many of you probably realize, preparations for Barrett-Jackson's world famous January collector car auction are already underway in Scottsdale, Arizona. This year's auction is January 13 through 20. The magnitude of this auction requires Craig Barrett and his team to begin preparing for their flagship Scottsdale auction almost a year in advance. This event is a must for any car enthusiast and for those of you who have never attended a Barrett-Jackson Auction you have to put it on your Bucket List. It is one of the top ten auto based events in the world and you need to know that you don't have to spend a fortune bidding on a car. You don't need to bid at all because the greatest enjoyment of Barrett-Jackson for those of us who do not have a couple million dollars to drop on a car is to enjoy inspecting, arguably, the largest great collection of diverse collector cars in the west. Guaranteed you won't see a larger assemblage of cars west of the Mississippi the entire year. Of course there is a side benefit of spending days inspecting the myriad of cars displayed in several tents, some larger than a football field, that benefit is you could become the owner of any one of them, if your bank account is large enough. Sure all cars are not "showcars" but most would qualify.
This year in addition to their usual offerings of outstanding sports and muscle cars they will also be offering their "Salon Collection". This is a special exclusive offering of very rare, award-winning collector cars with great historical provenance, many of which have not been up for sale in quite some time. In their tradition of bringing top grade collectables to the collector market and devoting a portion of the prime time auction to this segment of the car collector hobby illustrates Barrett-Jackson's commitment to excellence and diversity within the collector car community. As most of you know their focus over the past years has primarily been top grade American muscle and sports cars, but what you may not know is that years ago the cars typical to the Salon collection are the type and era of car that Craig Jackson's father focused on as he was building the business.
But there is another side of Barrett-Jackson aside from auctioning some of the finest collector cars in the world. That part is giving back to the community – helping raise money for charities. Partnering with General Motors, other automotive manufacturers and dealers, Barrett Jackson has raised millions of dollars for charity. Who could forget last January when Chevrolet and Hendrick Motorsports teamed up to offer the first 2013 Corvette 427 Convertible offered to the public. That car sold for $600,000! The proceeds were donated to the AARP Foundation's Drive to End Hunger initiative. Just imagine, $600,000 for a C6 427! Granted it was the first "427 Convertible" sold to the public with a VIN of 001. Forget that the seven liter, LS7 engine produced a mere 505 horsepower. And even forget that it's a car that can do 0 to 60 in under four seconds, it's still a bunch of cash to come up with! Pardon me, but even for a Corvette!
So by now you probably have figured out where I'm going with this. As all Corvette enthusiasts know, 1-13-13 is a very special day, the day Chevrolet will formally introduce the 2014, completely new C7 Corvette to the media and public at the Detroit Auto Show. Coincidentally 1-13-13 is also the first day of the Barrett-Jackson Scottsdale auction. What marketing executive worth his weight in platitudes would not jump at the chance to utilize the biggest automobile event of the first half of the year to market his product to hungry enthusiasts with pockets full of cash, all in the name of charity! Absolutely the best idea since someone put bikini-clad girls on new car model's turntables back in the fifties.
So on one hand we have Barrett-Jackson with a track record of creating unbridled excitement, setting world-record auction prices, with a 120,000 square foot tent packed full of cash-laden, hungry buyers and almost non-stop national cable TV coverage throughout the entire auction from Speedvision. This may sound politically incorrect, but even the "Helen Keller" of marketing whizzes could see the obvious opportunity before their eyes. It is what is known as "low hanging fruit" in the industry. There for the taking. The only problem for Barrett-Jackson's and Chevrolet's marketing people was it could keep them awake at night wondering just how much someone would be willing to pay for the number one C7 ever offered for sale to the public. That would most likely be serial number 2, assuming that number 1 would go to the National Corvette Museum.
Now we are talking about the number one car offered for sale of an entire generation of Corvettes, not "just" a special model! Imagine it! Understand I am not minimizing the importance of or undervaluing the "427 Convertible", I'd love to own one and am envious of those that do, but I am speaking "relatively". Would the first C7 available for sale to the public bring $750,000, a $1,000,000, $1,500,000 or even more? I am not sure anymore where this could shake out. If it were 2007 I might be able to see two million dollars, but with the volatility of the collector car market since 2008 I am not sure. The market has made a comeback but it, hasn't made it all the way back to the market where an Oldsmobile prototype topped four million dollars at Barrett-Jackson during the peak. But when you consider the fact that the one hundred and fifty tickets the National Corvette Museum offered sold out almost overnight at $995 a pop, just to be at the C7's introduction in Detroit on 1-13-13. A thousand bucks to be a part of the media introduction gives rise to all kinds of price possibilities. Whatever, the prospects are more than enticing for both Barrett-Jackson and Chevrolet .
So I am asking you, "How much would you pay for the first C7 ever offered for sale to the public?" And if you're a little short this month and can't quite swing it then, " How much do you think someone else would be willing to pay?" With all the hype and enthusiasm around the new Corvette's introduction it is an interesting point to ponder. Even Vegas could get in on the act and offer odds. Maybe it's not worth laying awake at night over, unless you have just checked your investment position, clipped a few coupons, liquidated a few stocks and transferred some money between accounts. But my guess is something is being put together right now between Chevrolet and Barrett-Jackson, something that will top last year's "427 Convertible". Something BIG – Barrett-Jackson only does things BIG in the collector world – and it doesn't get any bigger than auctioning off a low production number C7 to be built. I may be wrong on this, not likely, and you will have the opportunity to find out this coming January 19th, in the iconic quarter mile tent located in Scottsdale, Arizona. I can't be in Detroit on the 13th, but you can bet I'm going to be at Barrett-Jackson on Saturday, January 19, 2013, to find out.