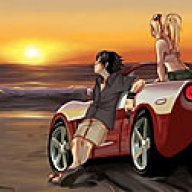 Site Administrator
Staff member
Administrator
Joined

Sep 16, 2000
Messages

13,906
Location
Corvette

1990 Corvette ZR-1
OLIVER GAVIN -- A BUSY YEAR IN 2009!
1. How did it feel to say goodbye to the Corvette GT1 car in the ALMS after so many successful seasons?
It felt quite sad because the car had generated a huge amount of success for the team and me personally, and I got so much enjoyment out of driving it. With my team mates, I won Le Mans four times in the GT1 car, starting in 2002 and then three great victories with Olivier [Beretta] and Jan [Magnussen] in 2004/05/06. I also won three ALMS championships with Olivier so it played a huge part in my career. The GT1 car spanned a decade of successful competition which is really impressive; I'm pleased to have been part of the history of such an important and special car.

2. What's your best memory of those GT1 years?
The whole 2006 season! We started with victory at the 12 Hours of Sebring, a race that Olivier, Jan and I had been trying to win since 2004 but it seemed that luck had always been against us; it was a monkey off our back. That year it all fell into place and we went on to win all the ALMS races leading up to Le Mans and then won in France for the third time in a row after an epic battle with the Prodrive Aston Martins. Having been nose-to-tail for 22 hours, victory was fantastic. On a personal level, I felt it was the best I'd ever driven; I didn't make any mistakes, go off or hit anybody and felt I contributed a lot to that victory.
3. How confident were you that this year's Corvette GT2 car was going to be competitive?
Well, knowing that the same people at Pratt & Miller who'd made the GT1 car were involved automatically gave us a lot of confidence. They've got a massive pool of knowledge for building and running successful GT cars but, until you go to that first race and are up against everyone else on the same track and in the same set of conditions, you don't really know for sure. We've run somewhere near the front almost everywhere we've been with the GT2 car this year, and had a chance of victory, and that speaks volumes.
4. Who is your biggest rival in GT and why?
Your team mates are your biggest rivals first and foremost; with equal equipment and engineering they have exactly the same shot as you. In the ALMS, the Flying Lizard Porsche of Jorg Bergmeister and Pat Long and Jaime Melo and Pierre Kaffer's Risi Ferrari were extremely quick and always a threat. In both cases this is down to their experience, speed and well-run teams.
It's just such an intensely competitive class in the ALMS, with at least seven or eight cars always being in with a chance. At the last round in Laguna Seca, I came into the pits during one practice session and asked what position I was in and was a bit surprised when they said 7th. But, the quickest time was only three tenths of a second ahead and there was rarely more than half a second separating the top six or seven cars in any session at any race which shows just how competitive it is. That rivalry is only going to increase into 2010 and everyone is really looking forward to it. I can't wait to get back to Sebring in March and commence battle!
5. What, for you, was the revelation of 2009?
The Goodwood Revival meeting. It was my first time there this year and it was such an amazing, enjoyable event with so much atmosphere and fun, but with serious racing and great competitors. It was a truly remarkable weekend and one I'd love to do it again next year. To race a Mini on my debut there -- the first time I'd ever raced a front-wheel-drive car -- up against some touring and sports car legends like Derek Bell, Andy Rouse and John Cleland was very special. Nick Swift put out a very good car and did an exceptionally good job himself so the two of us came away with a pretty dominant victory.
6. What was the biggest disappointment of 2009?
Le Mans. We'd worked so hard to overcome hurdles during the race, such as pace cars, incidents, and just 'stuff' that happened and, after 20 hours got into the lead genuinely on speed and not through luck. Then, for it all to be taken away an hour or so later because of a freak gearbox problem, it leaves you thinking..."why? Why did it happen to us?" I felt extremely sorry for Marcel [Fassler] as I'd experienced something similar in 2007, being stuck out on track with a broken car and having to make that horrible walk back to the pits. You feel so helpless and useless and it was massively deflating.
7. Is victory in the Spa 24 Hours a personal goal for 2010 and how different is it racing in Europe and the USA?
Spa is such an iconic track and the 24 Hours is a huge event each year; it's one of the races every sports car driver wants to win. I thought this year might have been my chance to win it but it wasn't to be so I definitely want to go back and crack it. I had a huge amount of fun this year with SRT, driving the GT1 Corvette there for the last time.
The main differences between the two continents are mostly to be found in the paddock. It seems to be a lot more convivial and friendly in the USA, there's a warmer feel to the whole race meeting -- and that's nothing to do with the weather! There's an edginess, a bit of a coldness you feel when racing in Europe and I'm sure it's something to do with the fact that everyone's shut away in garages and motorhomes. On both sides you're there to do your job, compete hard and get victory but I feel happier in the USA than in Europe. The American side is super fan friendly, and paddock-friendly, and that's reflected in the amount of spectators you get at all the races.
8. What makes Olivier a good team mate? What characteristic of his do you admire the most?
He's intelligent, very fast, supportive of whatever happens on the track, whether it's to you or another team mate , and very inclusive of team mates...but very competitive against rivals. He fights hard for his corner, as we've all seen, and many times I've seen him drive brilliant, quadruple stints in the night at Le Mans which is down to his stamina and focus. He also makes me laugh a lot, especially his lack of understanding technology and computers. He's not at all tech savvy and is always asking for someone's help!
9. When you share a rental car at races, who drives and why?
I learnt very early on that sharing a rental car with Olivier is a Jekyll and Hyde experience. You need to make sure you keep him cool because if he gets over-heated he starts doing all sorts of things that shouldn't be allowed, things you think shouldn't possible and things which make you think "I want to get out now!!" We split the driving 50/50 but, if he drives, I keep him calm because if he gets too excited then it all gets a bit too interesting.
10. What were the most frustrating seconds of 2009?
Missing my London Marathon target. I'd trained long and hard over the winter, determined to break the 3-hour barrier but missed it by nine seconds. By the time I got to the final mile or two I was 20 seconds under target and, at the last drinks station, I decided to take an energy drink (first one of the race) but within 30 seconds of drinking it I got stomach cramps and started going slower and slower. I tried to make up the time but couldn't quite, so came in nine seconds short which was very frustrating. Next year, I'm part of a BRDC-entered team and am aiming for 2h 55; there'll be three or four of us within the team pushing for that sort of time so it will spur us all on. Twelve racing drivers all together in the Marathon...how competitive will that be?!

11. What do you see as the biggest racing challenge for 2010?
Le Mans with the GT2 Corvette. It's a new class for us there and a new (much bigger) set of competitors to race against. We don't know what the car will be like at Le Mans, how it will all marry up together -- the tyres, aerodynamics, suspension, general conditions and so on. The last two years we've had wet test days during the week and that doesn't leave much time to get it all set up right. It will be a massive challenge.
12. Who is your pick of the pops for the future in sports cars?
That's a difficult one as there are so many good drivers currently but I think Richard Westbrook has proved himself to be a strong driver and I'm sure we'll have a few more battles. There are always exceptionally good young Porsche drivers and maybe Ferrari will also bring on some, such as Rob Bell. Outside of the current crop, I think Nick Tandy will make a good sports car driver and I hope he gets a good deal for next season, and maybe in a few years' time we need to be looking out for a young Kevin Magnussen!!
-credit: Oliver Gavin: International Sportscar Driver