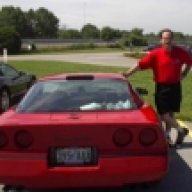 Joined

Oct 30, 2001
Messages

2,273
Location
Corvette

1986 Bright Red Coupe
Changed the plugs this weekend in the 86 to Bosch +4's. First real drive out today (January in Maryland and the top off!!!!) and the voltmeter starts red-lighting me and reading between 11.1 and 11.5 volts. Reading didn't really change at idle or at speed.
Along with the plugs, I found a cracked vacuum line and check valve; the voltmeter light was on before and after replacing the valve.
Is there a chance that the plugs are drawing too much power? I'm not sure where the voltmeter does its readings - at the alternator, at the battery, somewhere else?
I checked the voltage at a couple locations. 11.5 at the battery at idle, which seems low, was the highest reading.
My alternator seems to be the non-user-reparable one
Should I just get a rebuilt alternator, look for the voltage regulator, or what? Or ignore the issue and hope it goes away as suddenly as it appeared?
Thanks...
[RICHR]