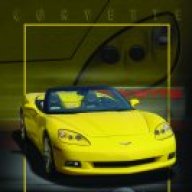 Joined

May 1, 2002
Messages

608
Location
Corvette

'95 LT1 Coupe, Comp Yell; C6 Roadster, Vel Yell
Folks-

I am almost at the end of my wits and automotive expertise with my '95. 17k miles. Can anyone help before I have her hauled out of the driveway and up to the Chevy service tech! Right now, my pride is hurting real bad and a trip to the dealership will just kill me. Whoever can help me put this puzzle together will, forever, be in my heart! I WANT MY VETTE BACK!!!!!!!!!!!!!!!!!!!!!!!!!!!!!!!!!!!!!!!!!!!!!!!!!!!! You may have read an earlier post about this before all heck broke loose.

Symptom History:
1. Has always start and run extremely well.
2. A week ago I tried to fire her 3 times before she would stay idling, then ran well for 1 day.
3. Next start incident, she coughed, backfired (sounded like one, anyway). Set code and displayed Check Engine Light all the way home. Shut her down, restarted immediately.............no code. Ran and started great for the balance of weekend.
4. Next start incident............ errrr, errrr, errrr, errrr....no start. Turned key off....hooked up timing light....asked better half to give the key a go and..........immediate start and ran fine balance of day. THIS IS GETTING WEIRD!!! No Check Engine light.
5. Next start incident............same thing only this time she started and farted like she did in #2, above but never did recover. No Check Engine light.
6. Time for mister TECH II. Ran codes and found 042-Ignition Control Circuit Grounded and 036-Hi-Resolution Pulse Circuit.
7. Ran ignition tests by the book and everything pointed to either a bad spark module or bad coil. Replaced both..............NO CHANGE. Crap, THIS IS GETTING REAL UGLY.
8. Checked all tests and fussed and fumed with her all day. She would not start once. I must have tried 50 times! No spark.
9. The next day I gave her ONE MORE START and she started and ran real smooth for about 5 seconds. Then she just shut down. This happened about 15 times in a row.
10. I gave up for the day.
11. Sunday morning I thought, "What the heck!". I turned the key and she fired right up and ran very smoothly for about 10 minutes, then she started sputtering and died.
12. During this moment of nirvana I had the Tech II attached and monitored all the systems. All were right on the money. Oops, when she died she set those 2 codes again.
13. I'm going after the Opti-Spark, but only 17,000 miles....COME ON! The front end is as dry as a bone. Could it be the opti????
14. The code 42 has me worried. Some books say it could be a bad ECM. The Ignition Control circuit is the only OUTPUT circuit in the ECM ignition circuit that produces that control signal. This pulsing (12v I think) feeds the optical ("eye") emitter, kind of like the "base" on a transistor . The High-Resolution Pulse Circuit (and a Low-Resolution Pulse Circuit) are produced directly by the Optispark and feed the ECM so it knows the location and rpm of the cam. See what I mean? This thing has too many interrelated variables for me?
15. BIG QUESTIONS: IF THE OPTI-SPARK IS HOSED WHY DID THE ENGINE RUN SO GREAT FOR THAT 10 MINUTE PERIOD. SAME QUESTION ABOUT THE ECM? Also, why does it sometimes fire right up every time (only to die quickly) and sometimes no spark at all.
16. Am I thinking too hard, or not hard enough?