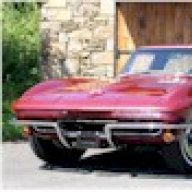 Joined

Apr 2, 2004
Messages

4,611
Location
Corvette

1965 Coupe L76 / 1978 L82
hi all
this is a bit off topic but it DOES include pics of C1/C2 cars so......
I'm building a new website for our Corvette Club since the old site has not been maintained, half the stuff is outdated, bad links, etc, etc.
It's just time for a new site and I'm the only one that seems to care enough to take the inititive to tackle the project.
i've gotten about halfway done and would like some help please if any of you are willing to spend 5-10 minutes checking it out.
I have it temporarily hosted on my own computer here at home just for test purposes and since I own all Mac computers and i'm building it on a Mac I really need help in having some people view the site on a Windows based system and a Window's based internet browser to see if the pages are displaying correctly.
i'd rather find out about problem now rather than after it's all completed.
If you wouldn't mind just clicking onto the site, navigating thru the pages, seeing if the links work, and seeing if the pages seem to display properly i'd GREATLY appreciate it.
If things look really bad than it would be helpful to know what browser and version of the browser you are using, such as IE6, IE7, Firefox, Opera, etc.
i've tested it so far on IE5.2 (Mac), Safari, and firefox - all Mac based but need to know how things look and work on Windows based browsers.
The link is here:
http://69.253.166.197/~barrykimmelman/
I greatly appreaciate it!! Thanks in advance.
Barry
PS: any constructive suggestion on improvement are appreciated also as I don't have website building experience except for my one personal site.