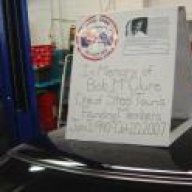 Joined

Mar 7, 2007
Messages

387
Location
Corvette

(2) Black '93s, purple '81, '69 vintage racer
Looking for help/advice/suggestions.
Rebuilt my 81 from top to bottom. Body lifted above frame but not frame off. I replaced all frame bushings with new poly ones, because that is what I wanted. I measured each set of spacers and the height of the original bushings that were installed at the factory and duplicated the same measurements. Keep in mind this car sat in a barn for 17 years. There was no rust no rot anywhere on the frame, bushings however were starting to deteriorate.
Car was completely stripped, doors, new hood front and rear fascia panels fitted, primed, painted the re-assembled. Now the problem, passenger side door will not latch completely. I would say the gasket is too thick however they are from the same set and the drivers door fits and works properly. Both doors fit perfectly without the gaskets and now only the drivers door fits.
Passenger front door gap is perfect top to bottom flush to the fender but the back end of the door is at least 1/4 to 3/8 out and will not latch to the final position in the door latch. Can't place any more shims at the front hinges as it would push the door passed the fender edge.
I have read about the body shims and problems with being shimmed too high or low can cause fitment issues.
Anyone have an idea?
TCXD40