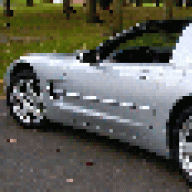 Joined

Oct 21, 2004
Messages

202
Location
Corvette

1998 Sebring Silver Coupe
Hi everyone,
Just wanted to share a short tale. Yesterday I took my daughter to visit a college and then dropped my to see my son at his college. The round trip was 798 miles, I averaged 65.6 mph and using Sunoco 93 octane fuel, got 26.6 mpg.
I might have been able to do better on the mpg, but there were a number construction zones on the interstates, and if you note the average mph, you'll get the idea.
The 98 ran flawlessy. Its a 6 spd and bone stock. So anyone wondering about performance, should get assurance from this trip. It was my firstb 'road trip' with the Vette.
My daughter got a kick out of trying to count all the cars that moved from the left lane as I approached. Neither one of us has ever experienced this in any vehicle, though I do notice it fairly often in the Vette.
p.s. Through the entire trip the only 'sports car' I came across was a 944! Thought for sure with the beautiful weather, SOMEONE might have been on the road. Oh well, we both had a blast.