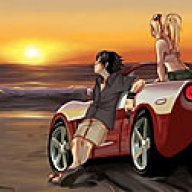 Site Administrator
Staff member
Administrator
Joined

Sep 16, 2000
Messages

13,763
Location
Corvette

1990 Corvette ZR-1
Pouring it on
TEST DRIVE | Corvette keeps most of its changes for '08 under the hood
October 27, 2007
BY
DAN JEDLICKA
Chicago Sun-Times Auto Editor
The recently redesigned sixth-generation Chevrolet Corvette is America's dream machine, and the big news for the 2008 model is a larger, more powerful base V-8.
Truth be told, the new V-8 is arguably the last thing the new 190-mph model realistically needs because the 2007 V-8 provided tremendous performance (0-60 mph in 4.3 seconds.) The only exterior difference between old and new models are new wheels.
The new 6.2-liter V-8 produces 430 horsepower, compared with the 2007 V-8, which has 400 horsepower and slightly less torque.
The new V-8 is in the $45,170 hatchback coupe and $53,510 convertible. Order it with a $1,195 "dual-mode" exhaust system and power jumps to 436. The extra 6 horsepower is gained by an exhaust that bypasses the quieter of two passages through the mufflers.
The 2008 Corvette V-8 has an advanced version of an old-style pushrod overhead valve design -- when virtually all rivals haveoverhead-camshaft engines. The one exception is the more-limited-production $83,895 Dodge Viper. It has an 8.4-liter 600-horsepower pushrod V-10.
Continuing is the low-volume $70,175 Corvette Z06 hardtop-only model. It has an 8.4-liter 505-horsepower pushrod V-8, which seems even more superfluous, considering the new base V-8.
However, the Z06 is the 'Vette most horsepower-crazy car magazines pit against costlier rivals, such as the Viper and Porsche 911, when doing comparison tests. The Z06 feels much like a race-ready street car, with a higher-performance suspension, uprated brakes and unusually large, wide tires for a street machine.
The Z06 originally was meant to be a lower-cost Corvette that would be within reach of working class folks, as was the case with 1960s-1980s Corvettes. But Chevy was selling so many high-profit regular Corvettes when thinking about a low-cost model several years ago, it figured it would shoot the works and go for an even more expensive, higher-horsepower model.
I tested the 2008 base Corvette coupe, which has a bottom-line price of $54,610 with options but without the $825 freight charge. That's $9,440 more than the list price. And no wonder, because the car's extras included a $4,505 Preferred Equipment Group with such items as a special sound system, power telescoping wheel, heated seats and side impact air bags.
For a $45,000-plus price, you might figure that a power tilt/telescopic wheel would be standard. And side air bags (standard on the convertible) shouldn't be in an extra cost option package. (You also can get them for the coupe in a $1,495 option package that also has perforated leather upholstery and a six-way power passenger seat.
My test car also had a $1,695 "Z52" Performance Package, with such items as larger cross-drilled brake rotors and a performance-tuned (spell "firmer") suspension. Then there were the $1,295 polished aluminum wheels, $750 removable transparent roof panel and power-enhancing dual-mode exhaust.
But the power telescoping wheel shouldn't be buried in a costly option package. There's nothing wrong with the standard manual tilt wheel. And how many Corvette owners really need the dual-mode exhaust?
While all that stuff is desirable to some folks, it's not necessary because even the base Corvette hatchback coupe and convertible are well-equipped with comfort, convenience and safety items, which include leather upholstery, dual-zone automatic climate controls, anti-lock brakes and traction control.
The standard suspension is more than just fine for fast, safe, comfortable driving. So are the regular brakes. Steering feel -- long a weak point for a high-performance car -- has been considerably improved.
The base V-8 works with a six-speed automatic transmission or my test car's six-speed manual gearbox, which shifts more directly than the one in the 2007 model, with shorter throws and lower effort. Moreover, the lighter clutch doesn't require as much effort.
Shifting gears makes driving a sports car more fun. But, with all that power and torque, the quicker shifting automatic transmission is the way to go for Chicago area driving. Most 'Vette buyers get the automatic, although it adds $1,250 to the tab.
Despite the added power and lower EPA fuel economy ratings for 2008 cars, the new Corvette provides surprisingly good highway fuel economy because the engine loafs at cruising speeds.
Economy is an estimated 16 mpg in the city and 26 mpg on highways with the manual gearbox and 15 and 25 with the automatic. However, I got at least 18 mpg in the city by "short shifting" -- moving directly from first to third or fourth gears and skipping lower ones on my way to higher gears.
The Z06 Corvette is for ultra-serious drivers and power junkies and comes only with a six-speed manual transmission. It delivers an estimated 15 mpg in the city and 24 on highways.
It's not easy to get in or out of any version of this low-slung two-seater, and long, heavy doors aren't suited to tight parking spots.
But there's good room for occupants in the upgraded interior. It can really be given an uptown look with the (gulp!) $8,005 (hatchback) and $8,600 (convertible) 4LT Preferred Equipment Group, which has finely stitched two-tone leather on the dashboard, door panels and seats, along with unique interior trim.
You can get the same stuff for the Z06 in the $6,545 3LZ Preferred Equipment Group.
Gauges can be quickly read, and controls are easy to use. However, seats could be improved and small interior push-button door openers are gimmicky.
Trunk room is decent, as it should be for such a big, heavy car, although getting objects in and out of the high cargo opening can be a strain.
The Corvette is more of an outstanding performance bargain, although it's too bad we never got to see the proposed lower-cost model.