Joined

May 7, 2015
Messages

5
Location
Hi!
I've been in the market for a c3 stingray and i'm drawn to the 68-72/73 chrome front and back ends. I've been able to find a good amount of later year, good condition vettes, but that's when they ditched the chrome ends. Those front and rear ends are something i'm really looking to get.
Here's what i'm talking about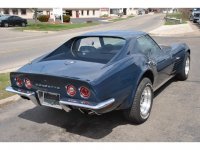 I was wondering if there's any kits or parts available out there to replace or add on those bumpers to a later year vette. And how much of a PITA that would be :L
For now i'm just waiting for a good 71 or something to pop up but i'm wondering if i have options here.
Thanks!