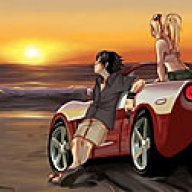 Site Administrator
Staff member
Administrator
Joined

Sep 16, 2000
Messages

13,894
Location
Corvette

1990 Corvette ZR-1
Prized Corvette has history behind it
Rare 1957 sports car and its original owner had brush with racing greatness a day after it came off the assembly line.
By

Kevin Aldridge


Staff Writer, Middletown Journal
Sunday, December 16, 2007

Related Video: http://vettetube.com/view_video.php?viewkey=138f61cda703991069ea
Bill Connell is never short on words when it comes to talking about his most prized possession — a 1957 Chevrolet "Airbox" Corvette.
He admits he could talk for hours about how he and his partner, Joel Lauman, found the car rusting inside a barn in Trenton and what it took to persuade its owner to sell it them. He could go on and on about the uniqueness of the airbox car and how it represented the pinnacle of performance in its day.
And Connell never tires of telling the story of the car's original owner, Bill Howe, who ran a Chevrolet dealership in Middletown and raced Corvettes in his spare time.
"It's truly a remarkable story," Connell said of the car's history. "Once we got the car in our possession, we knew we had a major research project on our hands to be able to determine who first owned the car and how it was originally used."
What makes it special?
In order to understand the historical significance of the car, Connell said, people must first know what makes it so special. In 1956, the Corvette group wanted to create a line of cars that followed the performance direction set by the introduction of a new lightweight engine known as the V8. Chevrolet announced that they would give factory support to a private team to develop Corvettes as a reliable platform for road racing.
Development moved quickly and over the course of that year several innovations were made to the vehicle that transformed Corvettes into serious sports racing cars. Corvettes were quite heavy, so an extra leaf was added to the rear springs, along with stiffer front springs, heavier shocks, finned break drums with cerametallix linings, air scoops to cool brakes, a fast steering adapter and a synchronized four-speed transmission.
But the 1957 Corvettes were the first American cars to have fuel-injection systems. They also had a Positraction rear end, which curtailed excessive wheel spin since the cars were so powerful. But the prime feature on the Corvettes of that line was the introduction of the cold air induction airbox.
Forty-three airbox Corvettes were build in 1957. Only about 25 are known to exist today. But it was Howe, a Middletown car dealer and amateur racer, who had the distinction of being the man to own the very first one of these cars ever produced.
Growing up around cars
Howe grew up in a world of automobiles. His father, Lawrence E. Howe, founded the Howe Motor Co. in Middletown a couple of years before Bill was born in 1924.
So Howe grew up in an atmosphere flavored with the colorful jargon of the rapidly developing world of automobiles.
By the time he reached high school, Howe was working summers in the service department of his father's agency. His first job carried the title of car polisher. Over the years he would work his way up through the company from a parts clerk to mechanic to a new and used car salesman to vice president and general manager and finally president of the company.
But Howe's interest in cars wasn't limited just to selling and servicing them. He liked speed. His widow, Barbara Howe, 82, said she learned of Bill's love affair with racing shortly after they got married.
She said Bill was a member of the Sports Car Club of America and she recalled how they did a lot of "rallying" with the group.
"They'd set up (racing) courses throughout the area and you had to hit certain points in a certain amount of time," said Barbara Howe, who now resides at Mt. Pleasant Retirement Village in Monroe. "Usually, you had husband and wife teams, where the husband did the driving and the wife did the navigating. But reading and riding in the car always made me nauseous, so Bill wound up doing it all."
Bill Howe was a very accomplished racer, Connell said. Over a three-year stretch, he entered some 35 competitive racing events and brought home 15 trophies for first, second and third-place finishes.
"He could have probably been a professional driver had he not eventually chosen to stay and run the family business in Middletown," Connell said.
How Howe got his 'Vette
Connell said one of the best displays of Howe's racing prowess came during a race on May 17, 1957, in Cumberland, Md., which took place just a day after the 33-year-old picked up an exclusive airbox Corvette right off of the Chevrolet factory assembly line in St. Louis. Howe used the car to finish third in that race behind racing legends Dick Thompson and Carroll Shelby, the inventor and builder of the Cobra series of racing cars.
But exactly how did the car come into Howe's possession?
Jack Knab, a longtime friend and racing partner of Howe's, said it all started when he and Bill attended the Sports Car Club of America's National Meeting in Detroit in 1956.
While there, Howe and a handful of other car dealers were invited to attend a special meeting with Fred Warner, the director of racing for General Motors. At this meeting, Warner offered the select group of dealers first crack at ordering a special racing Corvette that Chevrolet was developing, Knab recalled.
"Bill placed his order and he wound up getting the very first one," said Knab, who lives in Sugar Creek Twp., a suburb of Dayton.
Knab said he can remember vividly getting a telephone call from Howe on the morning of May 15, 1957.
"Bill called me and said, 'The car is ready,'" Knab said. So the two men flew out to the Chevrolet factory in St. Louis the next morning to pick it up.
"We went through the factory and even watched them finish the car and test it," Knab said. "We wanted to drive it out of there right then, but they wouldn't let us."
A contract with the local Teamsters union specified that cars off the production line had to first be delivered to a dealership in person by a unionized worker before they could be picked up by the purchaser. So the car was literally driven across the street to a nearby car dealership, where Knab and Howe took possession of it, then headed back to Ohio.
The timing couldn't have been more perfect. Howe wanted to enter the car in a Sports Car Club of America race a day later.
Howe and Knab drove the car straight through to Middletown, where they got a few hours of sleep and then off the went the next morning straight to Cumberland.
Brush with history
Knab recalled the excitement he and Howe felt upon their arrival at the SCCA race on May 19, 1957. Knab said Howe had arranged for them to get a special space in the Chevrolet garage prior to the race in order to do pre-race inspections and checks.
While going through the process, Knab remembers another young driver coming over to admire Howe's new Corvette. The young man was so enamored with the car, he asked Howe if he would sponsor him in the race and allow him to drive it.
"That young man barely had one race under his belt," Knab said. "What was Bill supposed to say? Of course, he said, 'No way, kid.'"
That young man, Roger Penske, would go on to become one of the greatest auto racing legends of all time.
"Can you believe that? Roger Penske's racing career almost began with that car," Knab said. "I often think back: What would have happened if Bill had said yes?"
As it turned out Howe did pretty well for himself, finishing third. Howe was always a strong advocate of Corvette and felt confident that the model could hold its own against the more highly-touted foreign entries on domestic sports car tracks.
"Racing was his first love," said Barbara Howe. "He was a very aggressive driver and that was what made him so good. He probably would have been one of the greats if he didn't give it up out of respect for his parents."
Barbara Howe said her husband's parents did not approve of his racing at all. He had too many responsibilities with his family and his father's company to wind up injured or dead behind the wheel, she said.
So Bill gave up racing in his late 40s and focused on other hobbies such as go-cart racing and remote-controlled airplanes, she said. Howe died at the age of 73 in 1998.
As for Howe's specialized airbox Corvette, Knab said Howe sold it barely a year after the Cumberland race.
Lost and found
Where the airbox Corvette went and who owned it after Howe sold it remains largely a mystery, Connell said. But knowledge of the car first came to the attention of Connell's partner, Joel Lauman, in 1977. Lauman had a friend — a hog farmer in Trenton — who owned an airbox car that was stashed in his barn.
Over the years, Connell and Lauman tried repeatedly to convince the man to sell the car, particularly when it became evident that he would never find the time or money to restore it.
After refusing to budge for years, the farmer finally agreed to sell the car in May 2005 and Connell and Lauman embarked on one of the great adventures of their lives, restoring the vehicle, authenticating it and tracing its history.
A few weeks ago, Connell and Lauman invited Bill Howe's wife, children and grandchildren to their shop in Blue Ash to view the restored car.
Barbara Howe described the experience as "eye-opening and emotional."
"We all were in awe because the car was in such perfect shape," Barbara Howe said. "The kids were tickled to death to see it and, of course, it was an eye-opener for the grandchildren because they never knew all this about their grandpa."
"There were tears in everybody's eyes," Lauman said. "In addition to being a part of history, this car is a part of their family history. It was really a special moment."