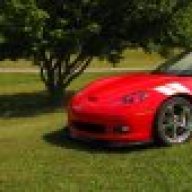 Joined

Aug 27, 2004
Messages

52
Location
Corvette

'10 Grand Sport Heritage Packag Convertible
The question is; with the gas prices to and over $3.00 per gallon. Are you using Premium or Regular? Below is a statement for the 2007 Chevrolet Corvette Owner's Manual (same statesment in previous manuals)!
Which is it for your Vette?
Premium for me!!!

Gasoline Octane
If your vehicle has the 6.0L V8 engine (VIN Code U), use premium unleaded gasoline with a posted octane rating of 91 or higher. You
may also use regular unleaded gasoline rated at 87 octane or higher
, but your vehicle's acceleration may be slightly reduced, and you may notice a slight audible knocking noise, commonly referred to as spark knock. If the octane is less than 87, you may notice a heavy knocking noise when you drive. If this occurs, use a gasoline rated at 87 octane or higher as soon as possible. Otherwise, you might damage your engine. If you are using gasoline rated at 87 octane or higher and you hear heavy knocking, your engine needs service.