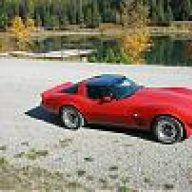 Joined

Nov 1, 2007
Messages

31
Location
Corvette

1979 Red L-82
We just purchased this 79 L-82 Vette sight unseen and it is in really good shape for being all original and documented but the camber on the rear tires is starting to look like the rear of a 1960's VW bug. I know that the side yokes were a problem and that these ones have no more adjustment left at the lower eccentics and must now be replaced.:W
I have two questions: First is, does anyone have time to explain how to remove the rear end or is there a site I can look at that shows the steps for removal.
Second, Once I get it out how do I remove the side yokes and what do these wear on. Does that part have to be replaced also?

Do you prefer new yokes or the rebuilt ones with the pressed in hardened tips?
Any help would be appreciated. I use to be a mechanic but I only worked on a few Corvettes and never on a rear end.