Joined

Oct 7, 2007
Messages

720
Location
Corvette

1996 Torch Red Coupe (Prior 1988 and 1989)
Yes, it is possible to replace this PS hose without removing any other components.

Yes, it is possible to wonder why you ever started this project.

Project duration was 1 hour plus 30 minutes to test drive.

Here are my steps:
Use a leather work glove to protect your power hand while you are breaking free the fittings.
Install oil pan under power steering pump.
Do not remove power steering
reservoir
cap to help minimize oil lost during process.
Remove rack fitting first, let it drain, then bend the rubber hose back facing the driver's seat.
Now you have a little better access to the fitting on pump side (what BS).
I used crow's feet to break the fittings free and to snug them back down.
The open end wrenches came in handy to speed up the process in between.
To install, reverse the process, starting with pump side first.
Oil o-rings with PS oil and carefully thread in the couplers.
Snug down. No need to crank these fittings down.
Check oil pump level, add as required, but I didn't need to add very much.
Wipe down any drips, start engine and look for leaks.
Test drive, moving steering wheel end to end, look for leaks.
Here are the tools used (16/18mm open end wrench and crow's feet):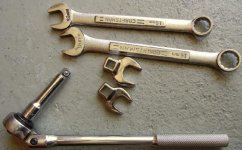 Here is the old hose (pen points to where it was leaking, pencil points to the years of residue):