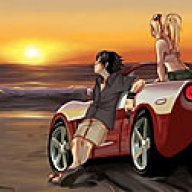 Site Administrator
Staff member
Administrator
Joined

Sep 16, 2000
Messages

13,790
Location
Corvette

1990 Corvette ZR-1
Restored Corvettes draw crowds
Enthusiasts gather at Carillon Historical Park to admire the sporty General Motors model.
By John Nolan
Staff Writer, Dayton Daily News
Saturday, June 30, 2007
DAYTON — There were red convertibles, 435-horsepower engines, hood scoops, leather interiors and shiny front grilles. For a day, the vintage Chevrolet Corvettes reminded viewers why they are revered by auto enthusiasts among the storied U.S. muscle cars.
The National Corvette Restorers Society's Miami Valley chapter along with Dayton History, the preservation organization, sponsored the display of 25 Corvettes on Saturday at Carillon Historical Park. The show included convertibles and coupes from the Corvette's 1950s beginnings to the current-day version.
It made Mike Hirsch wistful. The Beavercreek man strolled among the cars and recalled that as an 18-year-old 40 years ago, he admired a buddy's Corvette and thought about buying one — but never got around to it.
"I might be in the market now," Hirsch said.
Corvettes were an immediate hit for General Motors Corp. A total of 300 were built in 1953, but that zoomed to 3,640 the following year, said Mike Chilcote, a salesman who attended the Dayton display Saturday for ProTeam Corvette Sales, a classic Corvette sales company based in Napoleon, Ohio.
ProTeam specializes in 1953 to 1967 Corvettes. Interest in the vintage cars remains high, as do the prices, Chilcote said.
A 435-horsepower, 1967 Corvette convertible that might have sold for $6,200 could be worth $250,000 or more to a collector today if it is in mint condition, Chilcote said.
The 1967 production year also included an extremely limited production of 20 high-powered, 560-horsepower L88s that sold for around $6,500 and were intended for racing, Chilcote said. Eighteen of them are still known to exist and, if maintained to the demanding standards of restorers, could fetch prices of $5 million or more today from devotees, he said.
A selection of the cars displayed Saturday were appraised by judges for the Miami Valley restorers' chapter in five categories: exteriors, interiors, chassis, mechanical and operations. Similar judging categories are used in larger regional meets organized by the National Corvette Restorers Society.
The organization focuses on giving Corvette enthusiasts guidance in restoring their cars to original factory specifications. Awards given in NCRS judging events can boost a vintage car's sale value on the market, Chilcote said.
Corvette history
Introduction: 1953
Manufacturer: Chevrolet division of General Motors Corp.
Place of manufacture: Flint, Mich., and St. Louis initially. Now made in Bowling Green, Ky. Bowling Green is also home to the National Corvette Museum.