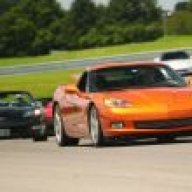 Joined

Sep 24, 2004
Messages

6,547
Location
Corvette

2007 Atomic Orange Coupe
After seeing a post on another forum, where the gentleman bought off ebay, and installed on his C6 a Revesol steering wheel. I ordered one of these wheels. My main reason for doing so was the additional space awarded with the flat bottom to ease entry/exit of the car...not necessarily when I'm out and about in the car, but when I have it on my lift in my garage. As you can see from the pictures, I don't have a lot of room for getting in or out of the drivers side when it is on the lift.
Installation was reasonably easy and straightforward, I watched a few videos on YouTube to help me through that portion. Anyone interested can find and watch those. This review is going to cover my thoughts after interacting with it on a 5+ hour round trip.
First off, I am totally impressed with the engineering that went into this design. The carbon fiber sections are a matt finish and look great. The Leather sections are, kind of, cheap feeling compared to the OEM wheel leather. I'm going to treat them with an oil to see if I can alleviate that condition. The appearance of the wheel is a little odd at first glance, but in actual use, they feel great.
The 'accepted hand position' (at least when I took drivers ed in the early 70s) was at "10 and 2", so, my first inkling when I climbed in was place my hands at those points. The contours of the wheel fit perfectly. The heel of the thumb rests perfectly in those contours. And the fingers rest comfortably in recesses on the other side.
With your hands a little lower more like '2:30 and 9:30' your thumbs rest on those recesses on the front.....this was my favorite position.
So you might think, by looking at the wheel, those are the only positions that work well. Well, you'd be mistaken. Moving my hands down to the '3 and 9' position, they fit very comfortably and was easy to feel and control from there. The moving them down to the '4 and 8 position feels very natural as well and the contours fit the hands as though it was designed that way...which I'm sure it was.
Even putting hands at the top and bottom of the wheel feels pretty good, albeit a bit slick.
In the end, it didn't matter where I placed my hands, the contours of the wheel fit my hands and was very comfortable.
Now for the reason I first bought this wheel. The flat bottom adds about an inch in extra room for entry/exit, but I really didn't realize how much the extra room was appreciated while driving down the road.
I'm totally impressed with the feel, look, function and price of this wheel...I would recommend this wheel .