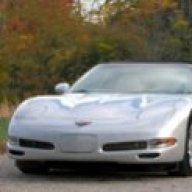 Joined

Jan 14, 2006
Messages

33
Location
Corvette

2000 Z51
Most of us have read the posts, some of us have had or now have the problem and we would like to fix it. Some posts list the size of the washers and recommend an Ace Hardware part number, but I was unable to locate the parts locally. I found a Company where you can order them for .03 each ( you need 4 per seat ) plus $6.25 in shipping. The supplier is located at
Plastic Fasteners - Non-Ferrous Fastener Inc.
and the part number is 43FWNY .075-125 (.75 X .440 X .125).
I followed the instructions found here:
Welcome to LIEBLWEB.com's Corvette Rocking Seat Fix!
and it was a relatively easy repair. WARNING: if you do not have a T-40 1 1/2" tall or less socket, you will NOT be able to make the repair. You will also need some stout sand paper to thin the washer a small amount and to flatten a small face on the diameter.
I ordered more than I needed so I have some I'm willing to pass along to any one here who needs them. This forum and its members have been invaluable to me offering advice, and providing technical insight and knowledge. I have saved a fortune and would like to pay that back in some small way. Drop me a Private Message with your address and I'll mail you 4, enough for the drivers side, next week.
Steve