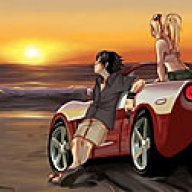 Site Administrator
Staff member
Administrator
Joined

Sep 16, 2000
Messages

13,791
Location
Corvette

1990 Corvette ZR-1
Way cool!
SEMA: Chevrolet delivers a pair of customized Corvettes
2011 CHEVROLET CORVETTE Z06X TRACK CAR CONCEPT
Corvette is a mainstay on racing circuits ranging from LeMans to club racing. Chevrolet's Corvette Z06X Concept suggests a new idea and components for transforming a production Corvette into a serious, closed-course track car.
The Corvette Z06X Concept showcases how an enthusiast can leverage Chevrolet's expanding portfolio of performance parts to create a full-on track car. Chevrolet teamed with Pratt and Miller, partners in Corvette Racing in the American LeMans Series, to create this Z06X track car concept.
"Racing is an integral part of Corvette performance and technology," said Tadge Juechter, Corvette chief engineer. "This concept car represents a mid-point between our GT race car and the production Z06, prepared by the team responsible for the Corvette Racing C6.R race cars, and featuring many performance parts owners can choose today."
The Z06X concept is based on the Corvette Z06 with the 1LZ equipment package, along with the Z07 Performance Package and CFZ Carbon Fiber Package. The 2011 Z06 with the Z07 package creates the lightest production Corvette and includes carbon ceramic brakes and Magnetic Ride Control, while the CFZ package offers body components that enhance aerodynamic down force on the race track, including a front splitter.
The Z06X Concept features competition-oriented modifications including: an adjustable carbon fiber rear wing, a polycarbonate rear window, roll cage, racing seat and safety harness, racing wheels, suspension enhancements – including coil-over struts with fully adjustable camber plates – racing-spec cooling system and more. The radio, carpeting and sound-deadening material are also removed.
The concept vehicle wears a low-gloss Icy White Metallic exterior color, accented with exposed carbon fiber body components and red trim. It rides on black racing wheels and racing tires. The interior is all business, with a racing seat, window net and roll cage-mounted camera system. It includes a racing pedal kit, a Genuine Corvette Accessory.
"It's a classic case of form following function," said Dave Ross, design manager. "The exterior color and accents were carefully selected to enhance the Corvette's racing-influenced design, but there's nothing superfluous in the Z06X's design – everything is there for a reason."
VEHICLE HIGHLIGHTS
Exterior:
• Low-gloss Icy White Metallic color with exposed carbon fiber and red accents
• 2011 CFZ-option carbon fiber package, including splitter and rockers
• Adjustable carbon fiber wing
• ZR1 carbon fiber roof panel and B-pillar panels
• Carbon fiber raised hood (from the Z06 Carbon Limited Edition)
• Carbon fiber headlamp housings from Specter Werkes/Sports
• Weight-saving and shatter-resistant polycarbonate rear window
Interior:
• Base Z06 1LZ trim
• Radio, carpeting and sound-deadening material removed
• SCCA-spec roll cage
• SCCA-approved window net
• Racing seat with five-point safety harness
• Fire suppression system
• Driver's drink system
• Video camera system mounted on the roll cage
• Genuine Corvette Accessory racing pedal kit
Performance:
• LS7 7.0L V-8 engine and Tremec six-speed manual transmission
• Low-restriction air intake system
• High-capacity radiator and enhanced cooling system
• New-for-2011 Z07 Performance Package, feature Brembo carbon ceramic brake rotors and special brake pads
• Lightweight racing wheels in black; 19-inch (front) and 20-inch (rear)
• Michelin racing tires
• Mono-ball control arm bushing
• Adjustable stabilizer bars
• Coil-over struts with adjustable camber plates
2011 CHEVROLET CORVETTE JAKE EDITION CONCEPT
He started off as a discreet logo in 2005 that symbolized a tenacious attitude of the Corvette Racing team and ever since, the skull mascot known as Jake has grown to embody the determination and triumphs of the team. Now, Chevrolet designers have created the Corvette Jake Edition Concept, a special Grand Sport convertible concept vehicle that celebrates Corvette's racing spirit.
The Corvette Jake Edition is a Grand Sport Coupe, with Z06 wheels featuring the Competition Gray finish. The matte Jake hood graphic from the GT1 commemorative model adds a subtle visual statement, while a host of other accessories round out the car's unique appearance. Most of the parts added to this special Grand Sport are available today as Genuine Corvette Accessories or through any Chevrolet dealer's parts department.
"Jake is more than the mascot for Corvette Racing, he personifies the Corvette spirit," said Dave Ross, design manager. "We designed this concept to demonstrate how any enthusiast could create his own Jake special model with parts available from any Chevrolet dealership."
Some of the accessories used to create the Corvette Jake concept are not currently available, but are planned for future release, including Jake-logo floor mats, console lid, wheel center caps and more. Other parts, including the hood graphic and Z06 wheels, are offered as Genuine Corvette Accessories.
"The Corvette has long inspired car enthusiasts to personalize it. The Jake concept shows one very unique way to do it," said Ross. "With the great variety of accessories and other parts available, there's virtually no limit to how you can make your Corvette stand apart from all others."
VEHICLE HIGHLIGHTS
Exterior:
• Black color
• Corvette Z06 wheels in Competition Gray
• "Corvette"-logo windshield header graphic (concept)
• GT1 Championship Edition Jake-logo hood graphic
• Jake-logo wheel center caps (future)
• Jake-logo fender badge (concept)
• Jake-logo underhood blanket and lighting package (future)
• Chevrolet Accessory full-width rear spoiler in Cyber Gray
Interior:
• Ebony leather with titanium stitching and red accents on the seats
• Chevrolet Accessory interior trim kit
• Chevrolet Accessory racing pedal kit
• Chevrolet Accessory "Jake" floor mats (future)
• Chevrolet Accessory "Jake" console lid (future)
Performance:
• LS3 6.2L V-8 with Tremec TR6060 six-speed manual transmission
• Chevrolet Accessory Tech-pattern engine cover