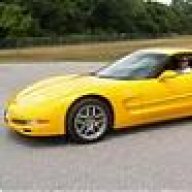 Joined

Oct 29, 2006
Messages

80
Location
Corvette

2004 Z06 Millennium Yellow
Although the stock shifter in my 04 Z06 was adequate for Sunday drive shifting it left a lot to be desired in feel and proper gate engagement during power-shifting.
Years ago, back in 1971 I used to have a Hurst T-handle on several cars I had and remember the feel and control, something I missed with the stock shifter.
I gave the folks at Hurst a call and was very disappointed when they told me they "no longer make the aluminum t-handle". Now I was certainly surprised and not sure if I really believe them.

I don't give up easy so I bought a NOS off EBay for $15.00 and modified the thread from the conventional 45 degree threaded hole for standard angled shifters to a 9/16-18 straight thread to accommodate the stock shifter in my Z06.

Here's some photo's I took this afternoon.
Drivers View.
One thing I didn't like is the leather boot doesn't stay up high enough to hide the threads. I may remove the shifter and shorten it but for the time being I'll keep it this way.
I didn't know if this was an actual modification or not but I do like the feel and control mush better than stock.