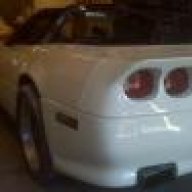 Joined

May 9, 2002
Messages

2,943
Location
Corvette

1984 White Z-51/ZF6-40/Shinoda body
Short circuit, left side fuel '90 Speed Density
Pulled the PITA Lingenfelter intake to check for pinched wires to the FIs. Maybe relieved it, but I started checking resistance to ground in a number of places, with my digital VOM. I NEED to ensure of a fix before reassembling it. (FelPro should make Velcro gaskets for this unit.)
I'd just driven the car after having this intake off/apart for another issue, parked it -- No start after about an hour; code showing the short, as above.
Comparing the L/R side ohmages, ( no tech detail of that sort is available to me) the L side was near zero.Pulled only #1 & 3 inj plugs (only ones accessible, w/o further disassembly); both checked around 15 ohms, as did #7 & 8. Those plug lead's resistances matched also, UNTIL I checked with #3 plugged to its injector, whereupon it dropped from the 5.4 ohms, to 4. That would tell me the injector is shorted, IF it hadn't checked at 15 ohms! With four (each side) injectors connected in parallel, as they are, the theoretical resistance would be 3.75, reasonably close to the observed, given the unknowns in the remainder of each (L/R) circuit.
I must be missing something here; comparable readings everywhere and the 'problem' injector testing okay as does its plug,...
Are there resistance specs or procedures that differ from what I have tried? thanks for any support.

Last edited: