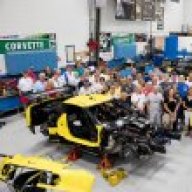 Joined

Aug 26, 2004
Messages

3,489
Location
[h=1]


Website Upgrades[/h]

Big News for the Corvette Store!

​

We have launched a brand new Corvette Store site that offers many advantages over the old site, for example:

​
<tbody> </tbody>
It is mobile device friendly and will adjust its layout to suit the phone or other device you use to view it;
It is linked to your actual membership records and will automatically determine your membership level and discount;
Much-improved search, sharing and wishlist features;
Order tracking and history
Additional features will be rolled out on the new site over the next few months. We believe that you will be very impressed with the site on launch day and continue to be impressed as we make more and more functionality available to you!
​
One of the first post-live feature rollouts will be common sign-on between the store website and the event registration website. When this is complete within a week or two after the store site goes live, you will use the same password between the online store and the event registration system and a password change for one will immediately take effect for the other.
​
Soon afterward we will roll out a much-improved Raffle ticket purchase experience. Stay tuned!
​
Because this is a completely new system, the accounts and passwords used in the previous online Corvette Store site will not migrate. The new site will already have customer records for all members and most previous online customers, so you should be able to immediately connect to your new account by using the "Forgot Your Password?" link on the site login page.
​
[h=1]Meet Your Marketing Team[/h] The Marketing Department is composed of three full-time employees, and this summer we've been fortunate to have an intern from the University of Georgia. We do the marketing for both the Museum and Motorsports Park.
Bob Bubnis has been on the Museum team for just over 7 years. Many of you enjoy rea
ding America's Sports Car magazine which Bob spearheads with writing, photography and layout. Bob also captures and edits video for the Museum, from promotional videos to the sinkhole DVD available in the store to the new video that loops in our Corvette Racing exhibit, and last year he assumed responsibility for our Hall of Fame video. He's been working on our new "Heritage Series" of videos taking an in-depth look at various Corvette stories. Watch for the story of the 1983 Corvette very soon! Bob takes a lot of the photos for the Museum as well. He has four adult children and in his free time enjoys going to movies, concerts, playing guitar and driving his C4 Corvette. And of course talking about all those hobbies with our enthusiasts!
Aaron Drexler joined the Museum team in 2014 and shares his design talents, creating everything from exhibit graphics to ads to brochures to event badges to vehicle wraps and more. He manages the Museum's Ins
tagram account and the Corvette Store email marketing. Aaron has recently started to do some photography and video work for the Museum as well, creating the Indy 500 exhibit video playing in that display. He and wife, Kiki (an elementary school teacher), have a new baby son Benjamin who was born in February (two months early!) and a fur baby, Charlie (black Lab-mix). A graduate of Western Kentucky University, Aaron loves comic books, Game of Thrones, Star Wars and all things nerdy. (LOL hugs, Aaron!)
Katie Frassinelli (me) had a trial by fire, joining the Museum in 2009 right before the Caravan. I previously worked at the BG tourism office (CVB) for four years as Marketing Director, and for automotive suppliers (HR / Communications) and am a grad of WKU. I bring eNews to your inbox each week, and am the primary poster/commenter for the Museum on Facebook and Twitter. TV interviews,
press releases, website updates, car readerboards, ad/billboard/poster/brochure designs, parking lot banners and exhibit development are just a few of the things I do. No two days are the same! I have two kids, Sophia (age 10), and the handful that is Dominic (age 3). He's already a "car guy." I don't own a Corvette but the boyfriend says I can claim his (and he's probably reading this because he's an ambassador!) But I think Dominic has already called dibs on "Lightning McQueen", a 2015 Torch Red Stingray.
I also want to give a big shoutout to our summer intern Abbey Anderson. Abbey is a student at the University of Georgia. Her dad is in the hospitality business as part-owner of several hotels. Abbey helps out with email and social media marketing, signage in the Museum and just about anything we ask her to do! I wish she'd transfer to WKU so we could keep her!
[h=1]Raffle Tickets[/h]


Thank you to everyone who sold raffle tickets on the Black Convertible drawn September 3. It was a big success and a gentleman from Loveland, Colorado won!

Tickets are now available on consignment for our next $10 drawing which will take place on February 9, 2017. This raffle will be a 2017 Arctic White Coupe.

If you would like tickets on consignment, please send me an e-mail at stephanie@corvettemuseum.org. Tickets are available in groups of 25 and will need to be sent back by January 15th.

​
<tbody>
</tbody>
<tbody>
</tbody>
[h=1]Upcoming Club Visits[/h]
September 19 Grand Sport Registry
September 19 Down the Road Corvettes
September 22 Foothills Corvette Club
September 22 Shenango Valley Corvette Club
September 28 Nashville Corvette Club
October 3 Circle City Corvettes (AL)
October 3 Central Jersey Corvette Club
October 3 Gulf Coast Corvette Club
October 10 Crow River Corvettes
October 13 Classic Glass Corvette Club (OH)
October 28 Touch of Glass Corvette Club