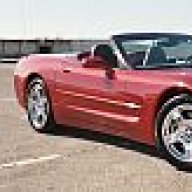 Joined

Jun 23, 2004
Messages

6,662
Location
Corvette

2003 AE Convertible, 1998 LCRM Convertible
My C5 has developed an annoying squeak, or at least it's just gotten loud enough to hear it at very slow speeds on uneven surfaces. I first noticed it driving on gravel driveways - mine and my parents' - and I've wondered if it may be the shocks or ......?

It seems to be coming from the passenger side but I can't tell if it's from the front or the rear.
Other than the obvious ones to drive fast and stay on pavement
anyone have suggestions as to the cause and how I can go about eliminating it?
Come to think of it, my doors seem to be slightly out of alignment too. It's as though they have both dropped slightly on the hinges. Could it be I need new shocks? :confused
TIA

Jane Ann