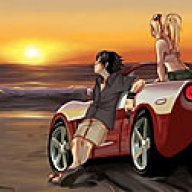 Site Administrator
Staff member
Administrator
Joined

Sep 16, 2000
Messages

13,790
Location
Corvette

1990 Corvette ZR-1
Sting Ray took a while to hook lots of buyers
February 19, 2007
BY
DAN JEDLICKA
Auto Reporter, Chicago Sun Times
The stunning 1963-67 Chevrolet Corvette Sting Ray still turns heads, so you can just imagine how much attention it drew when introduced for 1963. Many Corvette fans think it's the best Corvette ever built -- or the best that ever
will
be built.
Those fans might be right. I found my 1965 red 365-horsepower Sting Ray convertible more fun to drive than the far more sophisticated current 'Vette.
The first Corvette was nearly identical to a well-received General Motors auto show "dream car" and arrived in late 1953 with Polo White paint and bright Sportsman Red interior. But it turned out that few wanted any of the 315 built that year, although most were given to VIPs such as celebrities and socialites for promotional reasons.
The first 'Vette carried the name of a fast World War II warship. It had a sleek, rounded body, trendy wraparound windshield and "jet-pod" taillights. It was designed under the direction of colorful General Motors styling chief Harley Earl and looked totally unlike any previous Chevy. Although costly at $3,513, it had clip-in plastic side curtains instead of roll-up windows, no outside door handles, a clumsy manual cloth top, a small trunk and tepid six-cylinder performance because Chevy had no V-8.
The fiberglass body seemed odd in a world of steel-body cars. The only transmission was a marginal two-speed automatic when other sports cars had manual transmissions. Chevy modified the engine with such items as triple carburetors to produce 150 horsepower, and no Chevy manual transmission that could handle the power.
Clearly, Chevrolet had never built a sports car and didn't seem to quite know what it was doing.
The 1955 Corvette got the hot new Chevy V-8 and a three-speed manual gearbox. But 1954 sales were so dismal GM would have dropped the 'Vette if Ford hadn't introduced its successful 1955 Thunderbird two-seater. The slick, more comfortable T-Bird had roll-up windows, outside door handles, snug power top, removable hardtop and other items expected in a $2,944 specialty domestic car.
Despite improvements, 1955 Corvette sales were a pathetic 674 units because the car had become rather old (the 1953-55 model looked identical) and had a marginal reputation. It actually wasn't all
that
bad, and just try to find a good one today for less than $85,000.
Talented expatriate Russian auto engineer and sports car racer Zora Arkus-Duntov was put in charge of the 1956 Corvette and soon began making this second-generation model more desirable. It got a gorgeous body and features that comfort-minded Americans expected, including roll-up windows, push-button outside door handles and a lift-off hardtop. By then, they were accustomed to a fiberglass body Corvette. Sales jumped to 3,467 cars.
Chevy called the race-winning 1956 Corvette "America's only true sports car" -- and it was. The softer Thunderbird two-seater was an upper-middle-class sporty car for your wife or girlfriend. Even Ford never called it a sports car.
By 1962, under Arkus-Duntov's guidance, the Corvette was a fast, profitable model that helped give the automaker a sporty image. Sales totaled 14,531 units that year.
Meanwhile, powerful new GM styling czar Bill Mitchell bought a hastily developed Corvette-powered SS (Super Sport) race car for one dollar. Arkus-Duntov had created the SS for the important 1957 sports car race in Sebring, Fla., but the car had lots of problems.
GM banned racing activities after Sebring, but Mitchell got around the ban by using his own money and that of friends to create and race a new version of the SS. He had brilliant stylist Larry Shinoda come up with a rakish fiberglass body for the SS chassis. Mitchell wanted the body to act like a big inverted airfoil for better road adhesion. It didn't look like anything Chevy had ever done, but that was fine with Mitchell; he wanted to do away with the often gaudy styling approach of Harley Earl.
A deep-sea fisherman, Mitchell called the topless race car the Stingray (one word) after the colorful fish of that name. He had Arkus-Duntov and key Chevy engineers mechanically develop the car.
Mitchell then hired talented Dr. Dick Thompson to race it. After teething problems, mainly with brakes, Thompson won Sports Car Club of America national championships with the Stingray in 1960.
Elated, Mitchell turned the Stingray into an auto show car and exhibited it at big shows across the country to get the public accustomed to the shape of the sensational new 1963 Sting Ray (now two words). Showgoers were captivated with the show car's wild look, and that encouraged Chevy to keep its general body shape for the upcoming production model.
Meanwhile, Arkus-Duntov was developing the production Sting Ray. Despite a tight budget, he made it unlike any other production auto for a reasonable price.
The Sting Ray had a new frame and was slightly shorter than the 1962 model. Besides two seats and four wheels, it only shared a few items with the 1962 Corvette, such as the front suspension, four 327-cubic-inch V-8s with 250-360 horsepower and a fiberglass body.
The new Corvette had an independent rear suspension, which was a "first" for a modern American car and a feature even the rare, much costlier Ferrari didn't offer. The rear suspension replaced the old-style solid rear axle suspension and allowed superior ride and handling.
Mitchell insisted the Sting Ray have retractable headlights so the front end would resemble his race car's streamlined front end; they cost a bundle to develop and manufacture. Meanwhile, to hold down costs, Arkus-Duntov settled for big drum brakes instead of the more-advanced disc brakes he wanted.
The new 'Vette came as a convertible and -- for the first time -- as a coupe.
Mitchell wanted the coupe to have a unique vertically split rear window, with a divider bar. Arkus-Duntov hated the window because the bar hindered vision, but Mitchell got his way. A regular one-piece rear window was put on 1964 and later Corvettes, but a 1963 "split window" 'Vette has become highly collectible; it's worth at least $122,500 if the car also has the optional fuel-injected 360-horsepower V-8.
While beautiful, fast and sophisticated, the 1963 Sting Ray also had wider appeal because it offered more comfort features, including power steering, power brakes, AM/FM radio, air conditioning and even leather upholstery.
Sales of the radically new 1963 model soared to 21,513 cars.
While its appearance hardly changed, the Sting Ray was continually refined until dropped when the 1968 Corvette arrived, with a wide variety of horsepower ratings and options. It finally got disc brakes in 1965 to handle the power of larger, more powerful V-8s -- the first big one being a 396-cubic-inch "Turbo Jet" V-8 with 425 horsepower, introduced for 1965.
List prices, though, remained about the same as they had for the 1963 coupe and convertible, with the 1967 coupe at $4,353 and the convertible at $4,141. Really not much for a world-class sports car.