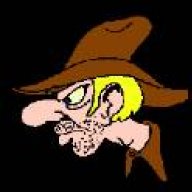 Joined

Apr 17, 2001
Messages

841
Location
Studs, strength and why you should use them at times
ALWAYS, BEFORE INSTALLING STUDS… FIRST, READ UNDERSTAND AND FOLLOW THE MANUFACTURERS INSTUCTIONS
(1) a correctly installed stud tends to be both stronger and far less likely to strip threads
(2) studs tend to spread the load over a greater area
(3) studs tend to allow greater clamping force and more even application of that clamping force
(4) studs tend to have a NC thread in the block and a NF thread that's used with a nut to apply the clamping loads thus lower wear on the block threads
(5) studs should be installed to a minimum of twice their diameter into the block and have the threads coated with anti seize paste or thread sealant
(6) never bottom out a stud, most studs have a mid band, if the hole depth allows run the stud in until that band just touches, or lightly torqued in place (read the manufacturers instructions) but not past that point.
(7) Use a tap to clean the threads before installing a stud
(8) Use a thread sealant if a stud enters a water jacket or oil passage
(9) Studs generally come with a matched nut and washer USE THE CORRECT MATCH PARTS
ALWAYS, BEFORE INSTALLING STUDS… FIRST, READ UNDERSTAND AND FOLLOW THE MANUFACTURERS INSTUCTIONS
(10)youll tend to strip fewer threads in soft materials like aluminum intakes useing studs rather than bolts to mount throttle bodys or carbs
(11) yes theres an exact formula for depth of threads and materials, its in the links below
Now I spent a good deal of time in college doing testing and research on this very thing as its REQUIRED in engineering classes, at first you may think its boring as all get out but after awhile you see the reasons its important to know.
Ill try to make this very short and simple
When you thread a bolt or stud into a material several factors determine the ability of the threads to hold, the thread design itself, the material the bolt or stud is made from and the material your threading them into should be obvious, but what many people don't understand is that the amount of thread engagement is critical as is the type of stress, if your pulling directly in line with the bolts centerline the (TENSION) is going to be different and the stress is different than if the two parts bolted together are trying to slide past each other (SHEAR).
EXAMPLE
If your trying to use that factory HARMONIC BALLANCER or damper bolt to re- install the damper on the crank you'll run a high risk of stripping the threads simply because your applying a good deal of tension BEFORE the necessary amount of threads are engaged and the total surface area of those threads is far less than ideal during the first few turns under that tension/load.
A STUD is not used like a BOLT, , bolts generally have tension build as the bolts tighten against the threads ,a stud is screwed in finger tight into the matched hole to its designed depth and only then is tension applied to the material and threads, usually thru use of a NUT tightened on the extended threads, and those threads are frequently finer in pitch ,having a greater total surface area to the length of engagement.
example
Links you may need
http://www.arp-bolts.com/Catalog/Catalog.html
http://www.arp-bolts.com/Tech/Tech.html
http://www.arp-bolts.com/Tech/TechInstall.html
http://www.toolprice.com/category/handtools.tapdiesets/?meta=gppc&gclid=CJfR-crYiY4CFRcbWAodiBpnDg
http://www.sheldonbrown.com/tooltips/taps.html
http://www1.mscdirect.com/CGI/GSDRVSM?PMTYPE=&SITEXT=HAND TAPS
http://www.engineersedge.com/thread_strength/thread_minimum_length_engagement_fed-std-h28.htm
If you do manage to strip threads, Drill and thread too next larger diameter bolt in NF threads, HELICOIL REPAIR is a second option that must be used in some applications
http://stripe.colorado.edu/~genovaj/helicoil.htm
http://www.korit.com/tapndrill.htm
http://www.rfcafe.com/references/general/tap_drill_sae.htm
http://www.newmantools.com/tapdrill.htm
http://www.simetric.co.uk/sidrill.htm
http://www.hotrodsandclassics.net/usefulinformation/tap sizes.htm