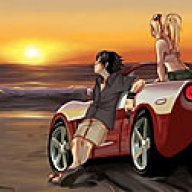 Site Administrator
Staff member
Administrator
Joined

Sep 16, 2000
Messages

13,898
Location
Corvette

1990 Corvette ZR-1
The Chevy Corvette has a long history of pacing the infamous Indianapolis 500 Race and it looks like this year's race will be no exception.
Just announced, the 2019 Corvette ZR1 has been selected to pace the 102nd Indianapolis 500 race next month.
In the past, Chevrolet has offered Indianapolis 500 Special Edition Corvettes for sale - such as the 2003 Corvette Indy 500 Pace Car and the 1986 Indy 500 Pace Car. As of this writing, Chevrolet has not announced any special edition Indy 500 ZR1s to be built for customers.
Below is the official summary with photos from General Motors:
---
2019 Corvette ZR1 To Pace 102nd Indianapolis 500
Iconic supercar is 15th Corvette to lead 'The Greatest Spectacle in Racing'
2018-04-19
INDIANAPOLIS —
The 2019 Corvette ZR1 is the official Pace Car for the 2018 Indianapolis 500 presented by PennGrade Motor Oil and will lead drivers to the green flag on Sunday, May 27, for the 102[SUP]nd[/SUP] running of the legendary race.
It marks the 15[SUP]th[/SUP] time a Corvette has served as the official Pace Car since 1978, and the 29[SUP]th[/SUP] time a Chevrolet has led the field dating back to 1948, when a 1948 Fleetmaster Six convertible paced the race.
No other vehicle has served as the Pace Car more than the Corvette. To celebrate the iconic supercar's connection to "The Greatest Spectacle in Racing," the 2019 Corvette ZR1 and the other 14 Corvettes that have paced the 500 were on display on the front straightaway today at the Indianapolis Motor Speedway.
"Chevrolet is proud to once again pace the Indianapolis 500," said Steve Majoros, marketing director for Cars and Crossovers. "The ZR1 is the most powerful and fastest Corvette ever made. It's the perfect choice to pace 'The Greatest Spectacle in Racing.'"
The 2019 Corvette ZR1 Pace Car features:
LT5 Small Block 6.2L supercharged V-8 engine with 755 hp and 715 lb-ft of torque
8-speed 8L90 paddle-shift automatic transmission
ZTK Performance Package featuring a stanchion-mounted adjustable carbon-fiber high rear wing, Michelin Pilot Sport Cup 2 tires and performance suspension
Magnetic Selective Ride Control™
Brembo® Carbon Ceramic brake system
ZR1 chrome-aluminum wheels, 19-inch front and 20-inch rear
Standard Performance Traction Management and Electronic Limited-Slip Differential
Unique Indy 500 graphics package
GM Design fully integrated safety strobe system
Performance Data and Video Recorder
The Corvette ZR1 Pace Car can accelerate from 0 to 60 mph in 2.85 seconds and reach a top track speed of 212 mph, the fastest Corvette in history.
Chevrolet has a storied history with the Indianapolis Motor Speedway. Chevrolet was founded in 1911, the year of the inaugural 500-mile race, and company cofounder Louis Chevrolet, along with brothers Arthur and Gaston, competed in early Indy 500 races. Arthur Chevrolet competed in the 1911 race, and Gaston Chevrolet won it in 1920.
"Chevrolet and IMS enjoy one of the longest-running and strongest bonds in motorsports," said J. Douglas Boles, Indianapolis Motor Speedway president. "Seeing all of the incredible Corvettes that have paced the Indianapolis 500 on the track today is an exciting reminder of the rich history of this great relationship. This year's Pace Car, the 2019 Corvette ZR1, is an incredible fast machine that is a perfect fit to lead the 500 field to the green flag."
Chevrolet is pursuing its seventh consecutive IndyCar manufacturer championship this year, building on a successful 2017 season that saw 10 wins out of 17 races.
Visit IMS.com to purchase tickets for the 102[SUP]nd[/SUP] Indianapolis 500 presented by PennGrade Motor Oil on Sunday, May 27, and for more information on the complete month of May IMS schedule.
The race also will be televised live on ABC, with the pre-race show starting at 11 a.m. EDT. Advance Auto Parts IndyCar Radio will provide live coverage of the race to its affiliates and on Sirius 214, XM 209,
www.indycar.com
,
www.indycarradio.com
and the INDYCAR Mobile app.
ABOUT CHEVROLET

Founded in 1911 in Detroit, Chevrolet is now one of the world's largest car brands, doing business in more than 100 countries and selling more than 4.0 million cars and trucks a year. Chevrolet provides customers with fuel-efficient vehicles that feature engaging performance, design that makes the heart beat, passive and active safety features and easy-to-use technology, all at a value. More information on Chevrolet models can be found at
www.chevrolet.com
.
# # #