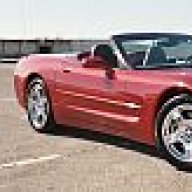 Joined

Jun 23, 2004
Messages

6,662
Location
Corvette

2003 AE Convertible, 1998 LCRM Convertible
If you haven't tried this product, I highly recommend that you check it out!
The Absorber is a synthetic chamois and beats anything I've ever used to dry my Corvette.
The absorber® is NOT a leather chamois. Nor is it a terry cloth towel. But it's probably the best drying tool you'll ever discover. The absorber® is made of a unique material called PVA (Poly Vinyl Alcohol). The secret of the absorbers® power is it's amazing uniform, sponge-like pore structure throughout the product that enhances capillary action and gives the absorber® it's super drying ability.
It's available at marine and automotive stores and is even available from Corvette Action Center Industry Partner Corvette Central.
Click here.
Many thanks to Psuedomind for loaning me the Absorber at CruiseFest '06!

Jane Ann