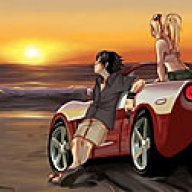 Site Administrator
Staff member
Administrator
Joined

Sep 16, 2000
Messages

13,779
Location
Corvette

1990 Corvette ZR-1
The C5 Corvette is still brilliant after all these years
On the track, the Corvette's other foibles fade away.
By Jack Baruth, Road and Track Magazine
June 14, 2013 / Photos by GM
Enthusiasts are abuzz about the new Corvette Stingray, and with good reason: from the 455-horsepower small-block to the painfully evocative fender logo, the new "C7" appears to be a hugely desirable car. With a base price of $51,995, it's a tremendous bargain and it probably represents the most performance available for the money. Unless, of course, you'd rather pay much less-how does $17,000 sound?- to go nearly as quickly.
A few times a year, I coach drivers at Summit Point Raceway's Shenandoah road course. My students have arrived in everything from a Yaris hatchback to a 911 GT2, but the most common car I see is a late-model Corvette of some type. As a track rat, the Corvette takes some beating; it's fast enough to stay ahead of most traffic without being impossibly expensive to maintain and operate.
My intermediate-group student from a few weeks ago was someone I'd coached before, but he'd sold his Mitsubishi Evolution in favor of a 1999 Corvette fixed-roof-coupe. The "FRC" is often mistaken for the Z06 that used the same body style, but it has the engine and suspension from the Z51 fastback. Inside and out, his 'Vette was a little worn, but all the mechanicals were sound and the price was certainly right.
After a day in the worn-out passenger seat of the Light Pewter Metallic coupe, my student was still experiencing some difficulty reaching the Corvette's relatively high limits. His Evolution had been considerably easier to drive thanks to the combination of all-wheel-drive and a 60:40 weight distribution, but he was starting to really enjoy his new car's ability to adjust its angle of attack in midcorner. I, on the other hand, had been thinking that it had been a few years since I'd driven a C5 in anger. We decided that I would take his car out for a session and see what we could discover about the 'Vette's ability to get around Shenandoah.
Full Story:
Chevrolet Corvette C5 Coupe on Track - Impressions of Racing Instruction in a Chevrolet Corvette - Road & Track