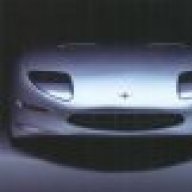 Joined

Aug 2, 2005
Messages

1,767
Location
Jonstr----Oh, and as for the subject of this thread - I think your logos rock!

But I'm curious - how would you go about having a set of one-off emblems made? I can think of another potential use or two if it isn't ridiculously expensive.
Well, I have two options that I know of. I have a friend who makes vinyl decals at a high quality/professional level. We regard the man as a saint on the camaroz28.com messageboard, because his products are much cheaper than the aftermarket and his selection of colors and materials is MUCH larger.
http://www.bfranker.badz28.com/vinyl/vinyl.htm
I've talked to him in the past, and he said that as long as I sent him the EPS files and told him the measurements, he would make anything I want. (I actually talked to him about the Callaway windshield graphics a few of the Corvette guys were wanting about 6 months ago). To have 2 of these logos made in the Z28 emblem location on the front fenders, he would probably charge me ~$50. These would be two-dimensional/flat logos. Since the C8 is a very smooth/clean looking car, I will likely go with these.
My other option is to have Motorhead Jewelry make emblems that look nearly exactly like the Callaway C16 emblems (three-dimensional, but 1 piece instead of 4 pieces). I don't know what the "16" material is made of on the C16 logo, but they said they could accomplish a similar look with black paint, powdercoating, or black chrome plate. I don't know anything about copyright infringement (if making a C8 logo would be a case of that) so I have no interest in it being exactly the same. In fact, with it being slightly different, it would make more sense--the C12 logo is slightly different so this one should be slightly different. Right? Anyway, they said for a single one-off emblem, it would be $450. I would imagine this implies they use a mold that is destroyed after casting 1 single emblem. I don't know the cost of two. I would imagine they would charge me more like the cost for a low production run ($600 for tooling (one time cost) and $110 per piece).
http://www.motorheadjewelry.com
The cost is really steep, but the quality is top-notch. This is the company Chip Foose has create his emblems, as well as the people who create SEMA cars. If for some reason I decide I only want 1 emblem for the rear of the car, and none on the side, I might go with them.
About my logo, I think I'm going to redo it. It doesn't look up to my specifications/perfectionism, so I think I'm going to try spending another hour or two redoing the 8.