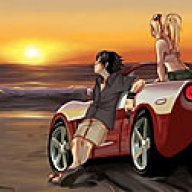 Site Administrator
Staff member
Administrator
Joined

Sep 16, 2000
Messages

13,863
Location
Corvette

1990 Corvette ZR-1
The Chevrolet Corvette outdoes itself again
Steven Cole Smith | Automotive Editor
December 22, 2007 Orlando Sentinel
The first new Chevrolet Corvette I tested was in 1985. After driving that car, and probably every model year since then, I typically think, "For the money, this is about as good as it gets." And every year, it gets better.
After a week with a 2008 Corvette, it's no different -- nothing matches the Corvette's looks, sophistication and performance at its base price of $45,285. Options add up quickly, as they did on the test car, but the basic goodness is there for the entry-level sticker, and adding features did not necessarily add to my enjoyment and appreciation of the car.
After all, you get plenty of stuff standard: The potent new 6.2-liter, 430-horsepower V-8, with the best six-speed manual transmission I've driven in a Corvette. You get a great stereo, leather upholstery, huge tires and brakes and alloy wheels. The test Corvette's price climbed to more than $53,000 with the addition of a navigation system, a tinted plastic roof, side air bags, heated seats with memory, power telescoping steering wheel, a garage-door opener and numerous smaller items, but aside from the side air bags, you can keep the rest, particularly the clear tinted plastic roof, which even in December let in more Florida heat than I liked.
I'm also a little surprised at how much I liked the manual transmission. In previous years, Chevrolet offered a manual or an automatic for the same price, and the Corvette is one of a handful of sports cars that I preferred with the automatic. But the fact that the six-speed automatic now adds $1,250 to the price and trims fuel mileage, coupled with how well the manual works now, well, it's a toss-up.
This is a good place to mention that with either transmission, fuel economy is nothing special -- the new, stricter EPA rating is 16 miles per gallon city, 26 mpg highway for the manual, 15/25 for the automatic. I have gotten considerably better highway mileage than that, though -- this engine is basically idling at expressway speeds. Also worth noting is that while premium gas is recommended, the engine runs fine on regular.
With the introduction of the C5, or Corvette, fifth generation in 1997, Chevrolet eliminated the huge lower perimeter frame rails that made climbing into a Corvette akin to stepping over a fence. Given their size and low stance, the newer models are plenty easy to get in and out of, and as always, once you are in there, these are very comfortable cars. There's quite a bit of luggage room beneath the rear hatch, and several little cubbyholes up front for change and cell phones, aside from the glove compartment and center console.
On the road, the 2008 Corvette is rigid and rattle-free, though the plastic roof squeaked occasionally on rough roads, one more reason to save the $750 it costs. The ride is firm but seldom jarring, and insulation keeps you from hearing much road noise, or feeling the heat from the big engine.
As much as I enjoy the exotics, it's difficult to justify spending any more on a sports car than a Corvette costs. And I haven't just been saying that since 1985 -- I still miss my worn-out 1969 model.
Sentinel Automotive Editor Steven Cole Smith can be reached at scsmith@orlandosentinel.com or 407-420-5699.