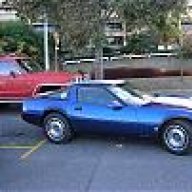 Joined

Jan 4, 2004
Messages

34
Location
Corvette

1987 Medium Blue Targa\Coupe
I have been looking around this site and found many posts about problems with the hood on 80's Vette's like mine. Most of which deal with the hood being unable to open.
I on the other hand have little trouble opening the hood on my 87 Vette, its the closing it properly that cause problems.
The hood never seems to shut flush with the car unless I slam the hood down. I cant keep slamming the hood down like this because I imagine one day shattering the windscreen with the force among other possible damage.
Because I am usually opening & closing the hood on my own, I cannot push down on both sides to allow it to lock into place properly. Hence unless I slam the hood down one side ends up a bit higher then the other (nether of which seem securely locked) and I can see the hood vibrate a bit as I drive.
I think Mid America Motorworks offer (or used to offer) some kind of product that could fix this type of problem, but I am currently having little success finding it on their website.