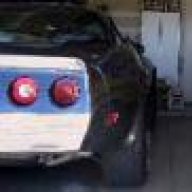 Joined

Apr 29, 2001
Messages

2,141
Location
Corvette

1981 HD Suspension; ZN1 Option
Well folks,
I took the Vette again to the Dyno today. At least I had a plan, and I was able to leave work, complete 3 pulls, and return to work in about 2 hours.
I aimed to investigate what is causing the relatively rich air/fuel mixture in the engine.
So on the first run (identified as run 003 on the chart), we ran the Vette while in stock configuration (air cleaner assembly installed, computer harness verified connected, snorkel flap doors verified open, engine warm, base run). Illustrated in lime green, you'll notice how the air/fuel mixture ratio (A/F ratio) dips into the 10 to1 range. This run averaged 150 HP at the wheels.
Run 004 was my experiment of the distributor disconnected during the 2nd pull. The graph is illustrated in blue, and I was aiming at isolating the computer as a cause of the rich condition. The carburetor was still in closed loop though. As you can see, the A/F ratio dips into the 10 to 1 range as well. The lack of computer timing advance caused a drop of about 40 horsepower at the rear wheels. So it behaved about the same as the first run today as far as the A/F ratio is concerned.
On run 005, I removed the air cleaner assembly, and I reconnected the 4-pin wire to the distributor. The graph is illustrated in black, but you can see how much the A/F ratio improved!!!! It averaged 12.5 to 1.
NOT BAD AT ALL. On run 005, the HpRW breaks the 150 line at 73 MPH, and on the first run it did not break the 150 line until 80 MPH. Also the curve is nice and flat meaning that it could still pull steadily past 106 MPH.
So something is causing the rich A/F ratio while the air cleaner is on. I will continue investigating and I'll report back after the next test.
View attachment 13033