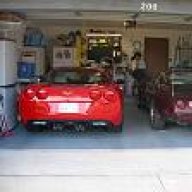 Joined

Jan 3, 2004
Messages

697
Location
Corvette

Early 1976 L-48, 2008 Victory Red
OK here's the deal I am proud C3 owner but am thinking about a new 07. Us old car guys are always talking about things like, they this car is special its 1 of 100 built with this option or this color or this eng tranny combo. So with that in mind what would a person want in an 07 if they were planning on giving the car to their grandkids someday and tell them look it's 1 of only 100 built like ??????
My thoughs are to get just a completly stock car not one option at all, seems like that not very many are built that way, does this sound logical?
The other choice would be to get one of the special edition cars but not sure I can invest the extra 15 to 20k to do that. Ideas?