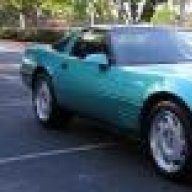 Joined

May 18, 2003
Messages

312
Location
Corvette

1991 Turquoise Metallic Coupe
Hi Everyone. I have been a member here since 2003. I currently have a 1991 C4 Base Coupe. In the past 7 years I have spent a lot of time and $$ making my C4 as good as possible. The car is nearly perfect except for needing a rebuilt on her shocks, new weatherstripping, and new rubber on her suspension. Otherwise, she is great. However, after 7 years of ownership, I think it's time.

I have enough finances to buy a C6 new. However, the $50k+ price tag makes me nervous. Not only that, I know the insurance is going to be sky high, so is the Californai DMV registration. Not even sure how much the maintenance would be. So I am keeping my other option open of buying a C5 Z06.

I have always wanted the C5 Z06 back when it was the king. Today, C5 Z's are much more affordable. I feel more comfortable paying $30k rather than $55k! In addition, I'm theorizing I won't miss much of the C6's power. So I have several questions for you "Z" owners.

1) If I chose a C5 Z06, I plan to only buy a low mileage (less than 20k miles) 2004. What should I look out for in this model car and this model year?

2) How reliable are the '04 Z06's? I am willing to fix most small issues on my cars. But I don't want to have to fix big issues such as powertrain and electronic shortcomings that will cost more than $1500 a pop. I mean, if I will end up spending $10k to get a $30k car near perfect, then I may as well get a used C6. Am I logically thinking this properly?

3) Common issues?

4) Am I crazy? Or should I just jump and buy a used C6 for $40k+? Is the C6 that much better than a C5 Z06?

5) I plan to use the car as a weekend fun car with the wife. I like to drive fast in the mountains of SoCal. I like to push the car's handling in the corners. But I also want to take the car on long road trips around CA and even UT & CO. I also like to drive around town a bit so I don't want a car that will throw a hissy-fit when I'm just dawdling around my neighborhood and cruising the local coffee shop. I know the Z06 is a great twisty road car but how well will it handle long, highway drives as well as grocery getting? Is it mainly best as a track car/twisty road car?

Appreciate all help, tips, comments, suggestions you guys have for me. Thanks all.