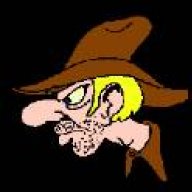 Joined

Apr 17, 2001
Messages

841
Location
I ran accrossed this on a differant site,FROM GBAK,thought it might intersest some of you gentelmen
http://s61.photobucket.com/albums/h64/malarn59/Video/?action=view&current=GBAK.flv
whats in it??(its a 383)
"Block: 010 , +.060", decked to 9.015"
Heads: Trick Flow 64cc/195 cc #TFS-30400003-CNC
Headgasket: Mr Gasket 0.028 (quench dist 0.043") #MRG-1134
Pistons: Probe SRS 11.3 comp, forged for 6" rod, #12337-060
Rings: Perfect Circle plasma/moly #315-0033.065
Rods: Manley streetmaster 6" forged (weight matched to pistons)
Crank: Eagle ESP cast int balanced (rebalanced) #103503750I
Camshaft: CC Advertised Duration 280/ 286, Lift .570/ .576 #CCA-12-771-8
http://www.compcams.com/Technical/Search/CamDetails.asp?PartNumber=12-771-8
Manifold: Performance Products Typhoon (same as RPM, but will fit under my hood, matchported) #52020
Carb: Holley 650 dp with milled choke horn, #HLY-0-4777C
Lifters: CC Super roller #CCA-818-16
Roller rockers: Crane #CRN-11745-16
Push rods: CC Hi-Tech length 7.700" #CCA-7963-15
Timing kit: Cloyes Hex-A-Just #CLO-9-3100A
And a looooot of work.......
Most of the # are from Summit.
Have I forgot something.........?
No dyno no / ET's.
Just calculed the hp/torque with Desktop Dyno.(500hp/550 tq)
I will take it to the track later this summer.
ET will not be to good, as I don't have the grip, just spinning and spinning and......
"
I can tell you that a CROWER 00471 would probably produce MORE mid and lower RPM tq but give up a few peak hp