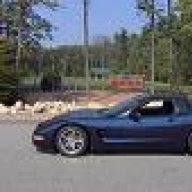 Joined

Jul 20, 2005
Messages

107
Location
Corvette

2000 Navy targa
I have a 2000 Coupe with 85,500 miles. I just started to notice what sounds like a drive train noise when I take my foot off the throttle- suddenly, mostly when I'm in a lower gear, or almost a downshift/braking situation. It's a dull thwack or sharp thump, and it sounds like it's coming from the forward part of the car.
It is not as pronounced as when the splines in the rear axles get hung up that let go with quite a "THWAKKK"" when backing up in a parking lot, etc.- did the grease thing, and that fixed it.
How about a motor mount? Perhaps a loose u-joint in the drive shaft? I hate to guess this one- a problem with the rear axle?
Any ideas would be appreciated.
Best,
Bluemill