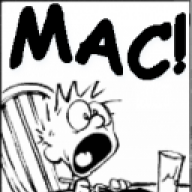 Well-known member
Administrator
Joined

Feb 13, 2003
Messages

5,478
Location
Corvette

1973 coupe L82 (gone as casualty of divorce)
The first meaning of the word "rhetoric" is simply that of command of the language. To the extent that I may happen to have that quality, it isn't something that I would expect anyone to criticize me for. But I don't think that's what you meant. The second meaning is that of pomposity, but here subjectivity comes into play. It may be that you, like many others, were taken in by what Augenstein had written, and that you are put off by someone having the audacity to tell you that most of it does not actually make sense. If this happens to be correct (it might not be), you consequently might not be as unbiased as you might otherwise be. Even if that isn't the case (it might not be, and I don't assume that it is) you still are likely influenced by the fact that I have made a bunch of people angry. That isn't something that I could have avoided except by remaining entirely silent. And speaking of anger, the strongest anger that has been displayed here has not come from me. Nor by Augenstein, and in the interest of following my mother's advice and finding something nice to say, I will point out that as concerns Augenstein, there is no evidence of irascibility. (Had to look that one up ...) That said, I respectfully will remind you of this:
I'm not "taken in" by what Augenstein wrote. His account appears to me as an attempt to revert what could be a relatively complex comparison (considering the two concepts are intrinsically bound) into layman's terms with some descriptions to help visualize each concept. As is often the case in such attempts, the descriptions aren't designed to be scientifically precise- they're designed to be graphic and engaging. It is quite apparent Augenstein's article wasn't crafted for a peer-reviewed pubication.

In the interests of full disclosure, I did quite well in high school physics but I did not study the subject in post secondary. My son who studying mechanical engineering and taking physics as an elective so I suppose I could have him read through if it was important but we're talking about an article that someone posted into a forum for people to read for interest... nothing more... I'm unlikely to disturb his studies for such. I see that, since I started writing this note, you replied to the post by 1963SS. I haven't read through this yet. Hopefully, the tone will be less angry?

To be honest, I don't think you've made anyone angry by posting your lengthy rebuttals. Certainly, Augie1 doesn't appear angry... rather he seems amused! I suspect more people skimmed your posts and wondered why you sound so angry but gave little, if any, consideration to the content of your rebuttal. The problem with using emotionally charged words is they draw attention away from the rest of the paragraph which is less contentious.

I suspect the majority of those who read your posts wondered about your motivation in such a vigorous confutation of an article posted for general interest that laid inactive in our archives for years before you resurrected it. My theory is your underwear is one size too tight.
This is one of the least appropriate comments that has been made here, probably the least appropriate of any. It has no connection to anything that is real or actual, not even with respect to any real, actual conduct that I might have displayed. By intent it is a personal insult, purely for the sake of the insult, and like most insults that are designed by people with particular skill at that sort of thing, the target of the insult finds no easy way to respond. I do not possess that skill, i.e., the skill of designing insults of that sort. I lack that skill because I simply do not think in that manner. If I insult someone, there is no express intent to insult for the sake of the insult. When I insult someone, it is because I have said something that was obvious to me and that I thought needed to be said in a plain, straightforward manner.

I didn't perceive those comments as an insult or personal attack on you. I took Augie1's comments to indicate his amusement. It seems to me that Augie1 isn't taking your rebuttal too seriously. Indeed, in this whole matter, the only person who takes Augenstein's article seriously is YOU... and the only person who has a problem with it is, again, YOU...

You seem determined to create heavy gravity about a light-hearted article that was not designed to be taken seriously... and you're doing so in a Corvette enthusiast's forum rather than a physics enthusiast's forum (if such a thing exists)... and, for the life of me, I do not understand why you would bother. :confused

For some reason, "Dr. Sheldon Cooper" of the sitcom "Big Bang Theory" keeps popping into my head.



-Mac