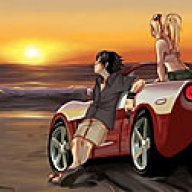 Site Administrator
Staff member
Administrator
Joined

Sep 16, 2000
Messages

13,887
Location
Corvette

1990 Corvette ZR-1
Truly unruly to a fault
Vancouver music impresario Bruce Allen steers the careers of some big recording acts, but when he's behind the wheel, it's 'Corvette City' all the way

Andrew McCredie, Special to The Vancouver Sun
Published: Friday, September 12, 2008
'Sir, Mr. Allen, let me just say that you're licence plate is a harbinger for disaster." So said a stern Vancouver traffic court judge to Bruce Allen a few years ago, and the retelling of the tale stills delights the music mogul to the point of steering wheel-slapping laughter.
An UNRULY vanity tag has adorned a succession of meaty Corvettes owned by the brash Allen for the past two decades.
The Vancouver-born Allen, whose talent agency's stable of stars includes Bryan Adams, Anne Murray, Michael Bublé, Martina McBride and Bob Rock, has also made a name for himself as a radio host in the city, and stirs emotions and debate on CKNW's "Reality Check" and JackFM's "Bruce Break." Listeners tune in for Allen's honest and at times controversial opinions, and most would agree "unruly" is the ideal adjective to describe the 60-something impresario.
It's also the perfect word to plaster on the back of a 21st-century Corvette, the iconic American sports car that has thrilled enthusiasts and defied detractors since Allen wore short pants in Dunbar back in the '50s.
And while those early 'Vettes were more style over substance -- and in some cases safety -- Corvettes of today are nothing short of supercars with super value for money.
Take the 2008 red convertible Allen took out for a recent spin on a warm August morning in Vancouver.
Featuring an all-new 6.2-litre V8 producing 430 horsepower, a top speed of 306 km/h (190 mph) and a zero to 100 km/h time of just 4.3 seconds -- for comparison's sake, a 2008 Porsche Carrera tops out at 285 km/h (177 mph) on the track, and goes from a standstill to 100 km/h in 4.3 seconds -- the new Corvette represents big bang for the buck.
MSRP for the Corvette is $69,500; $94,800 for the Porsche.
For Allen, it's no tough decision at all.
"I've always made car choices based on the styling and not really performance," he says as he pilots the convertible 'Vette over Burrard Street Bridge into the beach enclave of Kitsilano.
And not surprising for a guy who is passionate about all aspects of music, the sound a car makes is pretty high on his list too. "I've never liked Porsches because of that whining sound they make."
Like so much of this maverick's life, his love of all things Corvette sets him apart from the pack.
"Guys in my industry are all about Mercedes, BMWs, and if you're Chad Kroeger the rock star, you're driving a Lamborghini or a Ferrari," he notes.
That's not to say Allen hasn't spent some high-speed seat-time in German luxury cars.
"The way Bryan likes to travel during European tours is to get in a car right after the show and drive through the night to the next city," he explains, adding that the rocker will stretch out to sleep in the back seat while the manager sits up front with the hired driver. "And typically we're in those big Mercedes and Audis, and it's really amazing to see the guy peg the speedometer to 300 kilometres an hour on the Autobahn."
Thrilled as he is by the power, performance and luxury of high-end sedans, he's a committed Corvette addict and apart from a few hot rods and muscle cars from bygone eras, Allen is fairly dispassionate about cars.
He attributes that to his years of co-owning a NASCAR race team based out of Charlotte, N.C. in the late Eighties.
"You change you're whole opinion about cars when you own a team like that," he explains. "Because what they are is just pieces of tin and its just a business. So you don't get emotionally attached to them at all, and I think that's why I don't get too excited about new cars. Except Corvettes of course."
Dispassionate is a rarity for Allen, and the old fire returns to his eyes as he shifts the manual six-speed into 4th as we hit some open road out by UBC.
The roar of the four exhaust pipes fills the open air around the cabin, and a grin spreads across the driver's face.
"Listen to that," he yells about the ungodly howl emanating from the car's rear-end. "Nothing else sounds like that."
And thanks to a body and chassis structure tuned and perfected on the world's racetracks, no Corvettes have better driving dynamics than the new ones. The 2008 coupe and convertible share a hydroformed steel railbone structure, featuring cored composite floors, an enclosed centre tunnel, rear-mounted transmission and an aluminum cockpit structure. And the entire suspension system -- including cradles, control arms, knuckles, springs, dampers, bushings, stabilizer bars and steering gear -- has been upgraded and improved. Throw in the three standard dynamic chassis control systems -- anti-lock braking, traction control and Active Handling -- and the '08 Corvettes stick to the road like a hit song sticks in your head.
Yet for all those spine-tingling, hair-raising performance numbers and nuances, the new 'Vette's spacious cabin is in many ways its strongest selling point.
People of all shapes and sizes fit into Corvettes, says Allen, noting that he often sees 6'8" Michael Jordan cruising around Vegas in a one.
And outfitted with a whole host of high-tech goodies -- including a 6.5-inch colour touch screen display and satellite radio, which Allen has on XM5, The Fifties -- the cabin is as much functional as it is comfortable.
Allen winds the nimble convertible through leafy backstreets of Dunbar like he knows it by heart, and it turns out, he does.
"I was born at 14th and Dunbar, and I've never moved more than two miles from there," he says, though he admits he has many favourite places to stay for extended periods, including New York, London, New Orleans and Las Vegas, where he currently owns a condo that serves as a great getaway for him and his girlfriend. Though not all agree with that assessment.
"Some people say, 'Vegas? Why would you buy a place in Vegas?'
"Well, I tried Hawaii, looked around and at 10-o'clock at night I didn't know what to do with myself. Same with Phoenix.
"Palm Springs? They're all dead in there, all old people.
"In Vegas, if I want to go out at two in the morning, there's always something fun going on," he says with a garrulous laugh.
Fun is and has always been a big part of Allen's remarkable life, but work, representing the best interests of his artists, remains his driving passion.
He still receives lots of recorded music from starry-eyed prospective clients, "But I'm loath to go there because I know how much work it takes to launch a new act."
And in 2008, that work translates to travel, travel and more travel. "The key to the music business now, and to some extent it's always been like this, is the live business."
With the proliferation of new delivery methods for music -- the Internet, iTunes, satellite radio -- and the subsequent demise of FM radio, Allen says it is difficult for new musicians to get their music heard.
"Take my teenage daughter," Allen continues. "She doesn't know bands or albums as much as she knows singles. It's like it's the '50s with 45s again."
But the man who has made music his life's work has hope for the future. "What's happening now is you've got 16-year-olds who are getting into guitars again, and they're listening to Led Zeppelin."
Speaking of Zeppelin, Allen floors the Corvette as we're going back to his Downtown Eastside office over the Granville Street Bridge and the exhaust explodes off the green-glassed towers that skirt the bridge like a Bonham onslaught of his Ludwigs.
"Listen to that!" Allen shouts with that grin and unruly laugh.
Way back in 1986, then Vancouver mayor Mike Harcourt declared Feb. 4 as Bruce Allen Day.
Wonder how that traffic court judge celebrates each year?
BRUCE ALLEN
2008 Corvette convertible
His wheels
FIRST CARS
"The first car I ever owned was a 1953 Monarch. I was right out of high school and I chopped it and lowered it. Then I went through a sports-car phase -- an MGA and a Triumph -- then I got a Cougar.
"But from 1970 on, it's been Corvette City. They looked great back then, but they drove like trucks -- no handling ability whatsoever and bumpy as hell.
"Then when Bryan [Adams] hit big he started buying me new ones every couple of years. Come to think of it, before that the Bachman Turner Overdrive guys bought me an Excalibur, so I haven't bought a car for a pretty long time."
CURRENT CAR
2006 CORVETTE CONVERTIBLE
"Corvettes of today are as good as any European sports cars," Allen contends. "They go like stink, they sound incredible, but now they also have amazing handling and performance. And plus, Corvettes have no snob appeal. They're the workingman's sports cars.
"And my girlfriend drives a Dodge Nitro, which is also a cool retro kind of design. It's a great car."
NEXT CAR
"You'll have to ask Bryan."
(Note to Mr. Adams: 2009 heralds the arrival of the much-anticipated ZR1, its supercharged 6.2-litre engine's 638 horsepower making it the most powerful and fastest automobile ever produced by General Motors.)
DREAM CAR
"What I want, though I'm getting on in years and it might look a bit ridiculous, is a
Bucket-T hot rod with an exposed motor. That would be really cool." And really unruly.