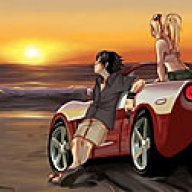 Site Administrator
Staff member
Administrator
Joined

Sep 16, 2000
Messages

13,765
Location
Corvette

1990 Corvette ZR-1
For those of you wondering what it looks like under the plenum of a ZR-1's LT5 engine, here you go. Unfortunately, I'm chasing down a secondary port throttle vacuum leak which I discovered last night.
So....what is all that mess under there you ask?
Starting from left to right:
1. Those red wires are the ignition wires going to the 4 coil packs that basically are the car's distributor...so to speak. Underneath that, is the starter motor which you can't even see. This should give you some idea of how deep the valley is on an LT5 engine.
2. In the middle of the picture you see two very large tubes. Those are the crankcase ventilation hoses. To the left of the top hose you see a shiny metallic cylinder. That is a secondary port throttle valve actuator. When enough vacuum is applied. the valve opens via a mechanical linkage and it opens the secondary port valves which you see at the top and bottom of the picture. There is another secondary port throttle valve actuator on the opposite side which controls the other bank of secondary port throttle valves.
3. To the lower right hand corner, you see a large black cylindrical shape with vacuum hoses on top. That is the secondary port throttle vacuum reservoir where vacuum is stored to control the secondary port throttle system.
4. In the upper right hand corner the large silver motor is the AC compressor and below that is the alternator.
Incidentally, in order to replace the starter, all that stuff in the center there pretty much has to come out. There is an intricate system of vacuum tubes which you can sort of see running in there. It is that vacuum system with all it's check valves which has my vacuum leak. This will be the second time I have replaced the system and it's not an easy chore.
Unfortunately, due to the intense heat that can build up under the plenum....these types of things are prone to failure. The nature of the beast so to speak.