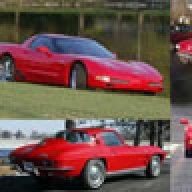 Joined

Oct 11, 2003
Messages

1,895
Location
Corvette

15 Z06, 01 Vert, 63 SWC & 60 ALL RED
Had a friend come over yesterday to help me redo the manifold install (wasn't comfortable with the install I did by myself, so re-did it) as well as the March billet stuff for the fan belt, alternator and water pump. Here are the photos...
Ran into a little problem with the distributor. Even though it is a small cap style, it bumped into the back of the manifold. So I ended up grinding just a small amoount away to check for fit. Now I need to take it apart and have it turned to that diameter since we don't know exactly where the distributor will end up. By turning, then we will be able to get it set where ever it needs to be. With the dual sync distributor, there are a number of gyrations that we have to go through before we can button that up. so we have decided to leave the installation for the distributor and the starter motor for the end, right as we get things together for trying to start it up.
Had to grind off about 0.040 to 0.060. So now I need to take this apart as far as I can, get it turned down to the point where the last grind mark comes off, then I am good to go.
When it comes time to fire this bad boy up, I can see a bunch of stuff to be done....I am guessing that probably a full day or maybe even 2 to get it going. With the ECM and all, this is going to be fun!
Stay tuned....
Herb
my web site with progress photos, now over 500:
http://public.fotki.com/htmiata/1960_corvette/