Joined

Apr 18, 2020
Messages

20
Location
Corvette

1969
Hello - newbie,
This morning, my friend said he needed someone to go with him to look at a car. Apparently the owner had died and his brother wants to get the house in order. I was surprised to find a 69 Corvette. The inspection is 1986. It looks to be complete but fairly rough. The person that inherited the house looked all over for the title but couldn't find it. I don't even know where to look for the VIN plate. There is a plate on the door jamb but that appears to list a paint code #986.
I bought the car for $1500. I found the block # as 3956618. It is a 4 spd. car with t-tops. Where do I find the vin #? IF it turns out to be a parts car, what are these parts worth and how do I sell them? Is it even worth $1500 for parts? How do I ID the motor. Just googling the block # I found it could be one of several small block Chevys from 60s to 80s.
I'm starting here at this forum by asking for any info that might help and I have had Corvettes before. In the 70s, I had a black 1967 2 top and a silver 69 427/L88. Unfortunately, the L88 had a carb issue with the middle carb and IF I can figure out how to add a picture, I'll show you the results.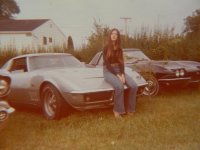 Thanks for your time and any suggestions/help.
STAY WELL!
Karl.