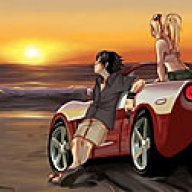 Site Administrator
Staff member
Administrator
Joined

Sep 16, 2000
Messages

13,894
Location
Corvette

1990 Corvette ZR-1
'Vette with a vengeance

10:15 AM CST on Sunday, January 6, 2008
Dallas Morning News
Vette-heads everywhere feverishly await the unveiling next week of the red-hot ZR1, the fastest, most expensive, most radical Corvette ever.
I will be in the mob at the Detroit auto show for the introduction of this 200-mph 'Vette – my small gray head bobbing in a rough and mottled sea of Euro photographers, freelancers, magazine writers, other newspaper mutts and the Webbie car people.
My hope is to catch just a glimpse of the long-awaited ZR1, a super 'Vette wearing carbon-fiber body panels and 20-inch wheels and packing a supercharged 6.2-liter V-8 belting out at least 620 horsepower – all for a cool $100,000 or so.
But I wonder if we'll be overlooking something. As good as the limited-production ZR1 is likely to be, Chevrolet already has a monster 'Vette in the house – the "basic" and relatively affordable '08 Corvette with the new 6.2-liter motor. As you may know, that thoroughly revised engine is rated at 430 horsepower, five more than the legendary snarling big-block 'Vettes from the '60s and '70s.
In fact, the Corvette with the new 6.2-liter motor offers so much performance, handling and acceleration that it is essentially nine-tenths of a Z06 Corvette for $15,000 less. Even at $50,000-plus, that's serious bang and thrust for the buck.
Want more proof than my blustery musings? Check out the September Motor Trend, which recorded a blistering zero-to-60 run of 4.1 seconds in the new 'Vette and a quarter-mile of 12.5 seconds at 115 mph. Think of all the six-figure exotics – some of them with richly Italian names – that could not top our fantastic plastic American sports car with its "common" pushrod V-8. It almost makes you want to go out and get an American flag tattoo – or another one, as the case may be, and this time someplace where people can see it.
My 'Vette for a week was an '08 coupe in crystal red metallic (dark red) with black interior. With a final price of $57,435, it was a long way from affordable for me. But the price included $11,400 in options, and I expect a considerable raise as soon as newspapers regain their health.
Despite being equipped with a six-speed automatic, my 'Vette was built for battle. Among its many options was the Z51 performance suspension package ($1,695 for cross-drilled brake rotors, stiffer springs and shocks, and thicker stabilizer bars) and the decidedly unusual $1,195 "dual-mode" exhaust system from the 505-horse Z06 Corvette.
At engine speeds above 3,000 rpm or so, a valve in the muffler opens, reducing back pressure by 80 percent and giving the 'Vette some much-needed snarl and thunder.
Think of it as a modern cutout. Even better, the dual-mode system adds six horsepower, pushing the total to 436.
Those two options nearly compensated for the automatic transmission that my press-fleet car was burdened with, but more on that in a moment. (By the way, how can you call anything with an automatic – even a paddle-shift automatic – a "sports car"? What exactly is sporting about clicking into Drive?)
I'm not sure, but I got over it with one twist of the key and one manly click into "D." Back when Chevrolet began planning for the ZR1, the company decided to use a supercharged engine in the new car. But to pull the kind of horsepower numbers that Chevy wanted, the engineers needed to find multiple ways to really heat up the already sizzling 6-liter V-8.
Start your engine
The '08 engine – which provides the starting point for the blown ZR1 – is bored to 6.2 liters. It also gets revamped heads fitted with 9 percent larger intake valves, straighter intake ports and intake cam lobes with 5 percent more lift. To feed the beast, the engineers bolted on one of the Z06's high-flow fuel-injection systems.
You can sense it the second the engine fires off with a surprising bark, shuddering a little from a slightly cammy idle. Moreover, the exhaust note has real bite and alacrity for the first time since the '70s, swelling to a NASCAR bellow as the revs climb.
Most of you, I'm sure, resist temptation better than I do. I didn't get three blocks before I had to test those little exhaust-pipe valves. They work.
Nail the 'Vette at 30 and it jerks your head back, slams you into the seat and spins the tires. And makes wonderful track-derived noises. You just have to accept that playing around in one of these noisy new 'Vettes is no longer the private affair it once was.

Gas and go
As always, there is a price to pay for all this fun. In town, the car ekes out 15 miles per gallon, which is nothing to shout from the hills. But on the highway, it is rated at a small minivan-like 25 miles per gallon – and even the greenies can't scream too much about that. (Just don't tell them that the 'Vette also has a top speed of 190.)
You won't need to go quite that fast to appreciate the firmly controlled Z51 suspension and fantastic brakes.
Like most modern cars, the Corvette has light, aggressively assisted steering at slow speeds that makes the car feel smaller and lighter. The steering tightens with speed – though not as much as the last 'Vette I drove, which sometimes felt a little unnatural.
Shoot into a corner with some vigor and this 'Vette squirms slightly as its electronic suspension control compensates for the load and any mistakes Goober the driver might have made. Initially, I found that kind of distracting.
But once you're into a corner, the car attacks curves flatly with enormous grip and great feedback through the steering wheel. In Motor Trend's test, the 'Vette recorded an average of .97 g of lateral acceleration on the skid pad – or almost enough to make your cheeks jowly on one side, and I try to avoid that as much as possible these days.
I would highly recommend the Z51 suspension, particularly if you can tolerate an engaging ride. On smooth surfaces – which are getting scarcer in old Dallas – the Corvette feels solid and firm. On wavy pavement, it fidgets some, and on the really rough, moonscape stuff near downtown, you will wonder if the car has even an inch of suspension travel.
Hey, Corvettes are supposed to be tight and tough, and the 'Vette I had still rode better than any of my Mustangs.
On the transmission ...

My biggest complaint concerned the automatic transmission. In most ways, it is an absolutely fine unit, shifting with crisp precision. But the new engine is so good that I found myself often slipping into the manual-shift mode, trying to wring as much from the motor as I could.
My advice would be: Don't bother. While the engine itself is happy to zing to 6,400 rpm, the transmission refused to allow me a redline shift even when I was supposed to be in control. Under full throttle, the shifts felt a little sloppy, oozing from one gear to the next even in manual mode.
Nonetheless, I had such fun driving the car that I tolerated the automatic and barely noticed the interior. My car didn't have the optional new interior, which offers leather for the dash and door-tops – as well as the seats.
As a result, the 'Vette had a fair amount of plastic on the doors and dash, seeming somewhat low-end in a car that cost nearly $60,000. But the seats were reasonably supportive, and all the various panels and pieces inside fit the way they were supposed to. Nothing buzzed or rattled.
Likewise, the fit and finish outside were as good as I've seen on a 'Vette. The depth and shine of the paint were excellent.
My biggest frustration with Corvettes in general is they used to be priced as American sports cars – higher than Mustangs and Camaros, but still fairly affordable domestic cars. As they've gotten able to compete with most high-end European sportsters, their window stickers have swelled.
While they remain a great value in comparison with a $72,400 Porsche 911, I can't run fast enough on the old Belo corporate treadmill to keep up.
It's the only thing about the Corvette that I wish would slow down.