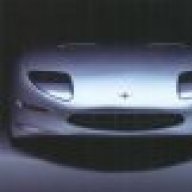 Joined

Aug 2, 2005
Messages

1,767
Location
I'll keep this review short. My pics aren't great, but it's hard to get good pictures in this type of lighting without a tripod. There was a lot of smoke in the air from a Mustang that tried to affixiate everyone, so that didn't help either lol.
Pros: Everything not listed in cons.
Cons: Curb rash on two wheels, Beretta alarm system added to stock stuff for some reason with the same key fobs as my old Corolla (CHEAP quality, and I don't know the reason for it).
That said, the curb rash isn't that awful. I'd probably have them repaired with some epoxy putty, sanding, and paint, but that would throw off the balance I suspect. The next owner could get away with some sanding and silver paint I would think if they didn't want to repair the carbon fiber.
The car looks brand new, sounds brand new, and pretty much is brand new with just over 5000 miles on it. The warehouse isn't really well lit, and I didn't get on my hands and knees and check for rock chips, but it looked excellent from what I could tell. It's being sold by Straight Line Automotive Group on ebay
eBay Motors: Chevrolet : Corvette (item 270329440466 end time Jan-22-09 08:26:42 PST)
and their website
Straight Line Automotive Group - 2007 Chevrolet Callaway - Stock# 123850
. Contact Jimmy Singer if you're interested in the car. His office number is 214-443-7999, cell is 214-893-7812, and the car is located at 2727 Northaven Rd, Dallas, TX 75229.
To see all pics, and video, go here:
Callaway C16 Dallas pictures by CallawayC8 - Photobucket