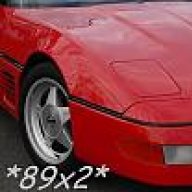 Joined

Feb 18, 2002
Messages

10,357
Location
Thanksgiving Day, 2006.
The day before turkey day, I got word that the new Callaway C16 was heading to a sidewalk cafe' in Montreal for some photography - the paint as I understand, was still wet.
With little time to spare, the car would be photographed and then loaded onto a truck to be brought into the United States of America, down to Old Lyme, CT, gone over - and then onto a car hauler bound for the LA Auto Show :cool Word was, the car was crossing the boarder near midnight, arriving at the shop at dawn...
An opportunity to see the ALL NEW C16 Callaway was on the horizon - in about 30 hours, it would arrive and be gone, as quickly as she appeared.
Fast forward to Thanksgiving Thursday - Turkey day :cool
With an 18 pound bird on the table, spiral cut honey ham and all the trimmings, I was thankful to be home - with our family all there, we reflected on all that we are thankful to have in this world. The turkey is said to make one tired after eating, and this bird did not stray from that. A long nap later, I rolled out of bed around midnight. Hitting the road with two family members in tow, we headed towards Conecticut to see this new C16, or so we thought...
In record time, we were in Old Lyme. We discovered that NOBODY travels on the night after Thanksgiving
WIth ZERO traffic, the roads were pretty vacant and speeds were brisk
With the car supposed to arrive at 7:00am, were were there - but where was the car??
...8:00am, then 9:00 am - still no car. :ugh
I don't think I have to tell you that with the hours passing, we were a bit anxious about the car and its whereabouts...
At about 9:30am, the carrier arrived with the orange C16 as its cargo - We off loaded it fro the carrier and into the shop it went :cool
A beautiful sight to see, my heart literally skipped a beat upon first sight -
By now, you know the rest of the story with the C16 - it went onto a truck and had an amazingly successful debut at the 100th opening of the LA Auto Show two weeks ago.
Until I have a chance to get some of the rest of the pics online, here is one of the shots I took with only 10 minutes with the car - While I honestly feel pictures do not do the C16's lines justice, the picture below does give a better impression of the paintwork and the brillance of the hue applied to the body panels:cool
Enjoy this teaser