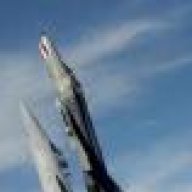 Joined

Mar 14, 2002
Messages

551
Location
Corvette

2016 triple black vert.
At our annual club picnic this past Saturday one of our members, a disabled Marine from the Viet Nam War, showed up in his usually white 64 with this patriotic display. It's not a paint job but a wrap so it can be removed if he wants. He said he wanted to do this for several years. He usually leads our club in the St. Louis Veterans Day Parade so this ought to be perfect this year.
A couple of other items of note at the picnic. One of our members who has a numbers matching 67 big block sold it and made enough to buy a new 2015 coupe. He said he wanted something he could drive all the time and the 67 was just not that kind of car. I also found out that another member has a 2015 Shark Gray Z06 on order to be delivered around Thanksgiving time. He's doing a Museum delivery so I see a road trip in my future.
Ron
"Baldie88"
p.s. These look correct when I uploaded them but are rotated when I posted. If anyone knows how to fix this please let me know. I haven't posted pictures in quite a while.
View attachment 19957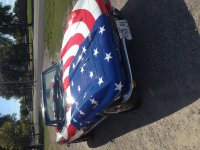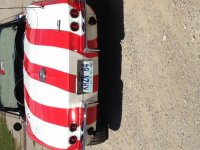 View attachment 19958
View attachment 19959
View attachment 19960