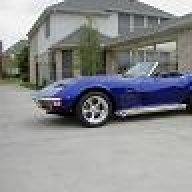 Joined

Nov 21, 2003
Messages

276
Location
Corvette

71 Kandy Burple Conv / 02 MY Z06
I'm in the market for my next project car. I'd like to do a Resto Mod Mid Year so my goal is to find a decent mid year, non numbers matching to get started with. Even these types of cars beg for serious money.
I found a car near my home. 1966, 4spd, Convertible, am/fm, AC (missing from car), no documentation.
The car was originally Sunfire Yellow but is now White with black stripe on 67 Stinger. Interior is very good, not quite excellent but very good. Top has minor separation at rear window, (probably needs to be replaced), frame is rock solid, suspension and undercarriage very good condition.
The problem I have with the car is that the front end is a one piece front end without the headlights. The lights are mounted behind the grill. The turn signal lights are shaved off. The motor is a rebuilt 350 from somewhere else in time. Riding on standard ralleye rims.
Whoever did the work on this car did an excellent job with the mods. It's very clean, straight and solid. The work was done by someone who knew what they were doing.
So my question is what is this car worth? I know site unseen and all the caveats. I get that you can't be specific without actually seeing the car. I'm just looking for a range of "reasonable" starter cars. Considering there's probably $5k worth of work just to put the headlights back right not to mention the painting required afterwards etc.
Asking price is $28.5K (down from $32K). I'm thinking the car is worth more like the low $20's. Any advice anyone can share on getting my brain around pricing for already modified mid years would be appreciated.
Here's a link with a pic of this car