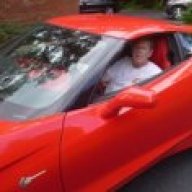 Joined

Oct 7, 2012
Messages

116
Location
Corvette

2012 GS Vert 2000 C5 FRC Pewter
I was speaking to another Corvette owner who was telling me the history of his car, while we sipped our coffee at an early morning gathering of Corvettes & Caffeine a few Saturdays ago. He told me that he purchased his Atomic Orange C6 from someone in New Mexico with only a few thousand miles on it and less than eight months old. When he got his car it was as close to a new car as it could be except the new owner avoided the huge "instant depreciation" that happens as soon as you start the engine after completing the sale on a new car. He went on to tell me that the original owner had to sell his beloved new Corvette because he literally could never take the car anywhere and leave it alone because he was obsessed with the worry that the car would be scratched or damaged. He told me the original owner would lay awake at night "worrying" about his new Corvette being damaged. Finally he came to the realization that his perceived dreamcar was in actuality a nightmare and he decided it was necesaary for his peace of mind and health to sell the car.

This started me thinking, because though I am no where near as obsessed with my cars, there was a time years ago after acquiring my first "collector car" (which at that time was a seven year old 1971 muscle car which many people just considered a used old gas guzzler but real car guys knew what the car was) a beautiful Black and Gold 442 that I also obsessed over. I also would not take that car anywhere that would require me leaving it for fear that it would get damaged. Over the years I have been fortunate enough to own and enjoy several fine automobiles. But I doubt that I could have enjoyed them to the extent I have without my much more realistic and considerably relaxed attitude about my cars.
However, my friend's story also caused me to recall an editorial that ran over thirty years ago probably in Road & Track or Car & Driver (not sure which I religiously read them both). It was about the editor and writer, his expensive European sports car, and, if I recall correctly, a maintenance employee in his building who was also a car enthusiast and a proud owner "enourmous old and (for lack of a better word) customized" , full sized Chevrolet, Oldsmobile or Cadillac (can't remember but it matters not). The editor eloquently exposed how he "maintained and detailed" his expensive "marque" (for you younger readers that means automobilie model in literary-ese. Now that I think of it the editor's comments sound very much like David E Davis but I always had difficulty thinking he would actually "work" at detailing his cars or anything physical for that matter - I digress, so back on topic). His car never saw the rain and it would never be parked for more than two hours in the direct sun unless it was at a car show. He had arranged for two private parking spaces at work so no one could park next to his car. He washed the car at least weekly and waxed it monthly. He covered the car while it rested comfortably out of the weather while at work (for this he used his "travel cover" an all-weather fitted cover which was water repellant and lined with flannel). It should be noted here that when the car was parked in his home "oversized" garage (can a garage ever be oversized?) he covered the car with a different custom cover - one that would not allow dust to penetrate the fabric and at the same time was guaranteed not to leave any marks on the paint. These were just two of the "commandments that were carved in stone" that the editor received on the mountaintop from the "ultimate car kahuna" and that every true enthusiast followed religiously though I am not sure where they ranked on the stone tablets prominently displayed in his office and his garage. There were several more, among them: THOUGH SHALT NOT eat or drink in the car no exceptions. THOU SHALT NOT allow anymore than one person to a seat. THOU SHALT NOT drive the car in inclimate weather (If by chance it begins to rain while you are touring and find yourself in the unfortuante situation of being stranded more than one mile from home find, the closest covered area or shelter for the car - if nothing else is available find an overpass and park the car under it) THOU SHALT NOT park the car unattended anywhere. Under any circumstance do not take your car into a retail parking lot with shopping carts (drivers in these lots are for the most part idiots and incompetent.) THOU SHALT NOT let a parking lot attendant park your car (most attendants are no better than the incompetent idiots that drive in retail parking lots). THOU SHALT exhibit good judgement when driving at all times and not follow another moving vehicle closer than 150 feet to avoid road rash, stone chips and pebbles thrown from the tires of cars and trucks in front of you. THOU SHALT NOT drive your car in traffic when there is a remote possibility that the car would over heat. Logically the next two commandments follow: Never drive your car when the outside temperature is predicted to go above 85 degrees F or under 40 degrees F. Change your oil every 1000 miles. Lubricate all mechanisms monthly. Rotate your tires every thousand miles. When storing your car place the car safely on jackstands to alleviate any load on the shock absorbers or struts. Condition your leather seats after every use. Never begin driving your car before you have allowed it to completely warm to operating temperature. Check all guages prior to placing your car in gear to insure that everything is fuctioning properly and all readings are within guidelines. Also listen very carefully for any unusual noise. Should any of these occur immediately turn your car off and diagnose the potential problem. Also document your findings in your log book. The commandments go on and on (there were so many in fact that had Moses seen them he would have felt shorted with only ten). And the editor was not going to take any chances by breaking a commandment for he surely was destined to be among the chosen few in Car Enthusiast Heaven.

We all know the scenario and if this is not a description of you and I now or in the past, then we certainly know someone like this. The writer related how each week when the maintenance man of his office arrived at work in his "special car" it had spawned a new addition. Usually new chrome somewhere on the exterior, chrome fender "skirts", a chrome gas door cover, etc. He was most proud of a large "flying goddess" hood ornament that very poorly resembled a Rolls Royce "Flying Lady" only his was in GOLD not mattering that it did not match the rest of his chrome laden car. One week the man couldn't wait to show the editor (and fellow car enthusiast) his new tiger striped seat covers. The editor, certainly not an elitist snob, showed the "obligatory" approval, but secretly wondered how anyone could drive around in a vehicle so obviously butchered and in bad taste. He was also aware that often the man would allow several of his work associates to pile in his car at lunch time and "cruise" around, showing off his "ride", while everyone ate their fast food in the car. It finally occurred to the editor that the maintenance man loved his car every bit as much as he loved his expensive European sportscar. This spawned and even more revolutionary thought, a question that was perhaps as significant as the very meaning of life, "Which of us really loves and enjoys his car more?" Himself, someone who continually obsesses over his car, cares for it to the extreme, would never think of allowing anyone to eat or drink or carouse in his car (any passengers had to sit sedately in the car at all times), and would never ever add anything to the car that was not a factory approved option or additon? OR the man who tinkers with, modifies, paints, changes and "plays with" his car with his friends? The editor went on to say how pondering this question opened his eyes to the true enjoyment that could be gained from his cars. He continued a rigorous maintenance routine though he relaxed on the frequency of his washing, waxing and conditioning. And though he did not begin adding chrome fender skirts to his cars, he no longer looked at disdain on those who did modify their cars. He realized that when he stopped worrying about his cars the enjoyment factor increased exponentially.

I tell this story because while posting on another thread, it caused me to reminese about a "daily driver" I owned over thirty years ago that I used to commute into New York. I thought about the little ugly car that I had not thought about for years. I recalled just how ugly it was (it was a brown Gremlin for God's sake and may have been the ugliest car in the world at the time). I remembered how sitting on the awful bench seats was like getting an unsedated prostate examination for the hour and fifteen minute ride into the city and how it prompted me to install brand new red Grand Prix bucket seats to the car, which did nothing for the appearance but was sure comfortable for the agonizing daily drive (how I acquired those seats is another story entirely). I thought about he ugly little car which did not have twelve speakers or even a tape deck, cassette player or CD (which of course the CD was not even invented yet) but it had a radio that I could tune in Howard Stern each morning for the commute (that was before he became a national celebrity and was a jock on free radio). And I remembered my final and what I then considered ingenius addition to the car - a CB radio!!!! Can you believe it - a real live "what's your twenty" CB radio! But by using it I could occassionally avoid the traffic jams which in New York are notorious (ever wonder why there are so many cemetaries located along side the interstates in New York City?). I had forgotten about the CB until I was writing about the car this morning. I certainly never obsessed about this car. I would park it anywhere with no concern at all should anyone ding, dent, scratch or steal the car. I'd leave the car in places that no sane person would think of leaving their car, certainly a car that they wanted to keep. I never worried because I knew that the ugly little car seemed to repel people. It was like the car carried this horrible dreaded contagious disease. People wanted to stay away from it, for their own safety and well-being. They couldn't allow themselves to be near such an ugly little car. I also remembered that though I cared little what happened to the car, nothing ever did! I don't remember it being scratched, dented or even dinged! It certainly was never stolen, no one would chance getting inside it for if they did it was like they would never return to the real world!! I remembered for the entire three years I drove that car daily it never failed to start every day whether the temperature outside was 10 below or 100 above F. I could not begin to think of how many bagles, coffee, Big Macs and fries were consumed in that car. (I believe that in today's world a doctor would most likely attribute any and all current health issues to the lethal food consumed during my daily commute). The car just seemed to be indestructable (I do remember that each week when I hosed it off - mainly the windshield- that I would also have to bring a full sized garbage can over to the car to empty it of cups, paper wrappers, partially eaten bagels, Big Mac containers, empty fry pouches and other various in sundry items that had accumulated over the prior week's commute.) Anyway, I thought once again how I had my beautiful 442 in the garage, which I brought out on select sunny weekends for cruising and shows. How I loved that 442! But what I really pondered was not how much I loved the 442 but rather I thought about what that car magazine editor wrote thirty years ago and about the ugly sh_t brown colored, indestructable Gremlin with the red Grand Prix seats and CB radio that I drove every day for about three years and which by the way I sold for more than I paid for it. Now I sit here, having owned far nicer cars than either the 442, or the Trans Ams, GTOs, Porsches, and yes even the two Corvettes I currently own and debate whether I should buy a Carlisle Blue C6 (prices are great) or wait for the C7. I think about all the debate going on over the new C7 and what it will be or won't be. I sit here and ask myself if it is possible to find a car that brought me more satisfaction than my sh_t brown Gremlin with the new red Grand Prix seats?